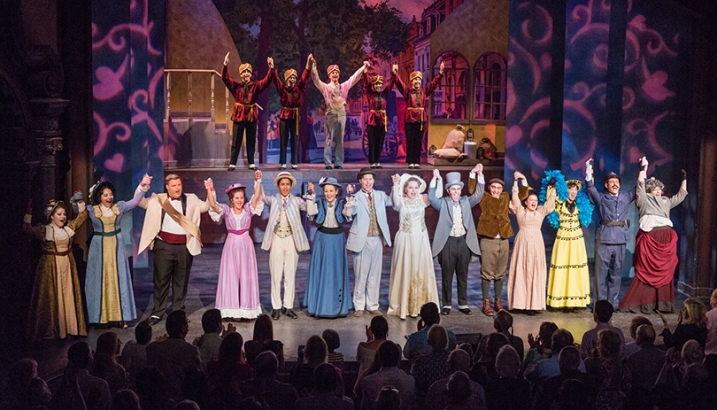 Being offered the part of an understudy can sometimes be a disappointment when your heart was set on something bigger. Sometimes it's hard to see past the rejection and understand what you might get out of understudying a bigger role. Aside from being listed in the programme, the audience will likely never get to see you perform that part, so what's the point?
The point, dear friends, could come down to lack of understanding of the sheer amount of work that it involves. Perhaps our understudies are underappreciated, and it's time we shouted from the rooftops about the amazing amount of time and effort they put in to these roles without the payoff of audience feedback. Here are 5 reasons why we love understudies.
1.Eagerness
We've all had rehearsals where we've been sitting around waiting to do something, only to find out 5 minutes before the end that they're not going to get to our bit. Our eager beaver understudies endure much of this, attending all rehearsals that the main cast are called for and spending them sat at the front making notes. They need to be ready as soon as the director asks them to step in, no questions asked, so have to be there regardless of whether they meet their daily step count or not. But they do it with a smile on their face and ready to prove themselves.
2.Disciplined
Aside from attending most, if not all rehearsals, understudies get the pleasure of learning lines they'll probably never read aloud to anyone but their mirror. Preparation is key to making the process smoother should they be called upon. They'll be humming along with the lead part as they belt their solo, recording harmonies to listen to in the car, and inadvertently acting as a prompt for the cast, whether they like it or not. Understudies have to be reliable and prove they are so – don't take offense. They wanted that part as much as you did so will make sure they can step in at a moment's notice – that's performing for you (though not Black Swan level!)
3.Multi-taskers
Understudies normally end up learning more than one part. Often they'll be involved in the ensemble or have a smaller part elsewhere, so as well as spending hours learning everything for the main part they wish they'd got, they then have to spend hours learning the part they did get. Understudies memories are jam-packed but organised with finesse, and need to be like sponges to take it all in and not crack under pressure.
4.Calm
Talking of pressure, that is sometimes what makes an understudy's role more important – they can't let that pressure get to them. They could suddenly be needed 5 minutes before curtain up, and instead of panicking they calmly change costumes and reassess their show, reminding themselves of harmonies, dialogue, positioning and tracks as they go.
Once I had to take over a role in West Side Story having never gone through the setting. I had the script in the wings and memorized lines in between scenes whilst the cast guided me around the stage. When it comes down to it, the rest of the cast and crew are always on your side when you're thrown into a high pressure situation, rooting for you to do well, which makes the experience of being an understudy a whole lot more satisfying.
5.Humble
Inevitably, understudies never get the chance to perform that role in the real show. If they're lucky they'll get an opportunity in rehearsal to step in, but it's not the same as hearing that audience applause in a live performance. A lot of effort goes into being an understudy, and often the chance never comes to put that work to use. But they know that's the deal when they sign up – it's about being reliable and humble.
I think each performer should understudy a role at some point in their journey. It's a chance to develop these wonderful traits and see things from a different perspective. If there were any part you would happily understudy, what would it be?
Source link