Mobile
Apple iPhone 15 vs. Apple iPhone 15 Pro
Traditionally, Apple sells more Pro models compared to the vanilla ones. Both definitely have their place on the market and, in our experience, tend to appeal to a different crowd typically.
Still, you may be wondering whether to get the regular iPhone 15 or the iPhone 15 Pro. Apple continues to introduce plenty of segmentation between its vanilla and Pro models, but that undoubtedly varies year to year.
With its new display, the inclusion of the Dynamic Island and the move to a new 48MP camera, the vanilla model is arguably closer to the Pro this year, more so than in recent years. Still, the differences and similarities are worth examining in detail to try and justify some savings or some extra spending on a brand-new iPhone.
Size comparison
The vanilla and Pro iPhone 15s are very similar in terms of physical proportions. The ordinary 15 is slightly taller and wider, whereas the Pro makes up the difference with a thicker profile. Still, the two phones are remarkably similar in practice and in person, with an almost identical in-hand feel.
The iPhone 15 Pro is notably heavier at 187 grams, compared to 171 grams on the vanilla. Once again, however, in practice, the difference is not that substantial.
Apple managed to shave off some weight from the Pro models this year, making them the lightest Pro models ever, by going for a titanium frame instead of stainless steel, like in the past.
The vanilla iPhone 15 gets an aluminum frame instead, which might be more malleable and easier to dent and scuff, but it is still an excellent material worthy of a modern premium phone.
Both iPhones have a new chamfer around the middle frame that softens the edges and makes for a more comfortable in-hand feel.

Since we are pointing out differences, while both iPhone models have the same-sized displays with flat panels, the top glass's actual shape is not identical. On the iPhone 15 Pro, the glass extends over the middle frame and then slopes down, arguably making for a more modern and premium look. On the vanilla iPhone 15, the glass tucks into the middle frame. It's a subtle difference in design, but one of the few that can be appreciated mostly in person.
Technically, the iPhone 15 Pro has the vanilla beat in the screen-to-body ratio department with an 88.2% figure, compared to 86.4%, thanks to its thinner display bezels.
Telling the two phones apart is a bit more difficult from the front this year since the Dynamic Island has finally trickled down to the vanilla iPhone. The difference is instantly apparent from the back due to the different number of cameras.

The body colors are a dead giveaway which is which as well, and while the new titanium finishes on the Pro look very appealing in their own right, our personal preference here is for the vibrant and colorful finishes on the iPhone 15 vanilla, which you can get in all-new Black, Blue, Green, Yellow and Pink shades.
In terms of other materials and protection, aside from the difference in the frame we already noted, both phones have a Corning-mage glass back of some sort as well as a Ceramic Shield glass up front. Both phones also have an IP68 ingress protection rating, allowing them to survive up to 30 minutes in up to 6 meters of fresh water.
Display comparison
Both the iPhone 15 and 15 Pro are rocking a compact 6.1-inch display, one of the Super Retina XDR OLED variety. Both phones also advertise amazing and identical brightness output figures of 1,000 nits in regular mode and up to 2,000 nits peak. iPhones remain a bit more conservative in boosting and maintaining boosted brightness in sunlight compared to most modern Android competitors, but even so, the difference in brightness output is noticeable in practice and much appreciated.
Both the iPhone 15 and 15 Pro also have the exact same display resolution of 1179 x 2556 pixels – perfectly sharp in practice.
The one major difference in display tech between the vanilla iPhone 15 and the Pro is the inclusion of variable high refresh rates on the Pro. Apple calls this feature ProMotion, and as the name suggests, it continues to be relegated to the Pro models. It's a real shame that Cupertino hasn't decided to at least bump the vanilla iPhone 15's display up to 90Hz since high refresh rate is so prolific and easily attainable in the Android realm nowadays and for way less money, too.
The LTPO display on the iPhone 15 Pro can refresh at up to 120Hz and go as low as 1Hz, which is what Apple leverages for its always-on display feature.

The Always-On Display is also annoyingly missing from the vanilla iPhone 15 and not due to any obvious technical limitation, but presumably as a consequence of lacking variable refresh rate and Apple's desire not to harm battery endurance numbers on the vanilla model.
Battery life
Given that the iPhone 15 and 15 Pro have similar-sized bodies, it is no surprise that they house very similar-capacity battery packs. Still, with less hardware to fit, the vanilla manages to cram a slightly bigger 3349 mAh battery, compared to 3274 mAh in the Pro. Not really a substantial difference.
In practice, however, after putting both phones through their paces, we can confidently say that the regular iPhone 15 delivers notably, if not amazingly, better battery life. It managed a solid 98 hours of endurance in our testing, compared to 86 hours on the iPhone 15 Pro. Both phones did quite similarly in terms of standby and call performance, with most of the difference stemming from higher on-screen test times on the iPhone 15. This is probably achieved through a combination of chipset and display power efficiency, but regardless, the iPhone 15 squeezes out a small victory in this department.
Charging speed
Apple has always been a bit ambiguous when it comes to charging the iPhones. According to official specs, both the iPhone 15 and iPhone 15 Pro should be able to get from zero to 50% charge in 30 minutes. And indeed, both phones manage and exceed that task with ease.
Apple is a bit unclear about what charger you should get for your iPhone since one does not come in the box. That advertised charging rate is achieved "with 20W adapter or higher," our testing verifies that both the iPhone 15 and 15 Pro tend to charge at a max of about 20-21W.
In our testing, the iPhone 15 and 15 Pro have very similar charging curves, at least up until the very last few percent of battery capacity. Both phones managed to get from zero to 32% in 15 minutes and then around 58% in half an hour, exceeding Apple's marketing promises. An hour on the charger got us right around 86% of charge on both phones.

After the first hour or so, however, charging on the vanilla iPhone 15 tapers off quite aggressively down to only 4W or so for some reason. This results in a total charging time of 1:50 on the vanilla iPhone 15, compared to 1:33 on the iPhone 15 Pro.

We can only speculate why this difference is present, but it is consistent, which technically means we have to give a small win here to the iPhone 15 Pro, although in practical terms, both phones charge at a quite similar rate.
Speaker test
The usual hybrid stereo speaker is employed on the iPhone 15 and 15 Pro – the earpiece acts as a second channel, joining the dedicated bottom speaker to provide a stereo experience. Apple also does a bit of clever crosstalk cancellation on its speakers by having each speaker output some of the 'opposite' channels but at a lower volume.
Overall, we are once again looking at a very similar setup across both phones in terms of hardware and performance. In typical iPhone fashion, the audio output here is excellent. Loudness gets a "GOOD" grade on both phones in our testing and is just a bit shy of a "VERY GOOD" mark. There is a surprising amount of bass in the output, and both phones also have a very likable rendition of vocals and the crispy treble.
You can't go wrong with either phone in this department.
Performance
The iPhone 15 uses last year's top-tier A16 Bionic chipset, while the iPhone 15 Pro is powered by Apple's latest invention – the Apple A17 Pro chipset. The Bionic moniker is no more, as this new piece of silicon brings the iPhone models to a whole new level with console-grade graphics and hardware ray tracing acceleration – Apple's marketing speak, of course.
The new Apple A17 Pro chipset is the first ever mass-market SoC manufactured by TSMC on a 3nm process node. This, along with architectural advancements, has resulted in what Apple calls the "most efficient mobile CPU" and one that offers 3x better performance per watt than the "competition" with its efficiency cores. We aren't quite sure what that competition is, exactly, though.
Marketing talk is good and all, but let's reel things back a bit and look at some actual performance metrics, starting with CPU. The A17 Pro should be around 10% faster than the A16 Bionic on its performance cores. That should translate to around 16% better single-core scores and about 13% better multi-core ones in something like GeekBench. It's not an earth-shattering difference, for sure.
The A17 Pro gets a bigger boost in the GPU department. For starters, it has six GPU cores, one more than the five inside the A16 Bionic. These are apparently all-new "pro class" graphical cores, too, with 20% faster performance than those inside the A16 Bionic.

The biggest innovation this year is hardware-accelerated ray tracing, which promises to be four times faster than the software-based ray tracing on the A16 Bionic and should finally make "console-level" graphics on the iPhone a reality. It is still unclear what that entails in practical terms. Still, Apple did show off some impressive capabilities at its launch event by promising that AAA games from CAPCOM, like Resident Evil 4 and Resident Evil Village, will be coming to the iPhone as direct ports.
The iPhone 15 Pro also gets two extra gigs of RAM for a total of 8GB, compared to the 6GB inside the vanilla iPhone 15. While this might not be a major difference at present, it might turn out to be a limiting factor in the future and a valid reason for the vanilla iPhone 15 not to receive a certain future iOS features.
Finally, we should mention that both the iPhone 15 and 15 Pro now have a USB Type-C port and both support USB Host/OTG via said port and Display Port video output. There are, however, USB data connection speed differences dictated by the different chipsets. The regular iPhone 15 is limited to USB 2.0 speeds of up to 480 Mbps. The iPhone 15 Pro, on the other hand, supports USB 3.2 Gen 2 data transfer speeds of up to 10 Gbps.
Camera comparison
As expected, there are some major camera differences between the vanilla iPhone 15 and the iPhone 15 Pro. Let's start with the vanilla iPhone 15 first since that is simpler. This year, it gets an all-new 48MP main camera. Apple is doing some computational and stacking magic to end up with 24MP stills, which are more detailed than any of the 12MP cameras on previous iPhones thanks to a more feature-rich version of Apple's Photonic Engine.
The vanilla iPhone 15 also gets a 12MP ultrawide camera, which is sort of similar to the one on the Pro, but not really, since it is not as potent and lacks autofocus, which the Pro leverages for macro photography. Also missing on the regular iPhone – is the TOF 3D LiDAR scanner on the back of the phone for depth data.

On the front, both phones bet the SL 3D depth sensing hardware for Face ID that also aids the selfie camera. The selfie on the iPhone 15 is actually quite similar to the one on the Pro. Both have PDAF, but the iPhone 15 Pro does add OIS on top of that.
The iPhone 15 Pro also has a 48MP main camera. It uses a significantly bigger sensor than the one in the vanilla 15. You can now capture 48MP HEIF/JPG images alongside 48MP ProRAW. They've also come up with 28mm and 35mm equivalent digital zoom modes, and the iPhone will let you pick one of these focal lengths as your default setting.
The ultrawide on the iPhone 15 Pro is carried forward from the previous generation. As mentioned, unlike the one in the vanilla iPhone 15, it has autofocus, which allows it to double as a macro shooter.
The iPhone 15 Pro uses the same 3x unit from the 14 Pros, with the numbers looking unchanged from the 13 Pros. Still, you get a dedicated telephoto, which is another thing the vanilla iPhone 15 lacks.
Last, but not least, it is also worth noting that the regular iPhone 15 does not get access to Apple's proprietary ProRes video capture. 3D (spatial) video is only available on the Pro models as well.
The iPhone 15 Pro generally offers a better overall camera setup and quality.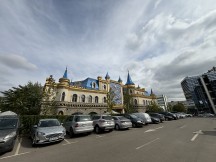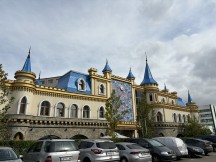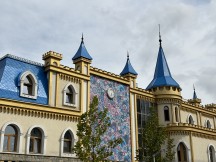 iPhone 15 camera samples: 0.5x • 1x • 2x
Though that said, the iPhone 15 definitely holds its own, and its new 48MP main camera is a big step forward from the older 12MP cam of the iPhone 14.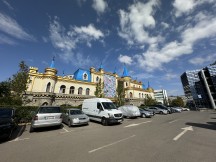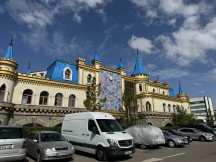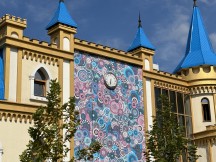 iPhone 15 Pro camera samples: 0.5x • 1x • 3x
Both phones shine in low-light capture, too. However, the iPhone 15 Pro has a slight edge overall, especially in the zoom department through the use of its dedicated telephoto.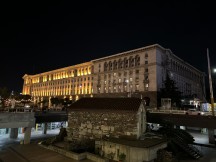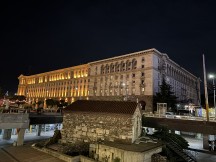 iPhone 15 camera samples: Low-light • Night mode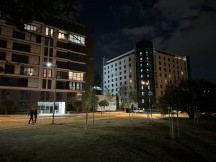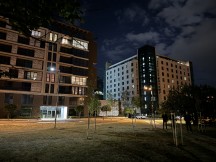 iPhone 15 Pro camera samples: Low-light • Night mode
Here's a glimpse of how the iPhone 15's main camera compares in image quality to the iPhone 15 Pro's in our Image compare tool.
And here's how the iPhone 15's main camera compares in video quality to the iPhone 15 Pro's in our Video compare tool.
Verdict
At the time of writing, a base 6GB/128GB iPhone 15 has an MSRP of USD 799/GBP 799/EUR 949/INR 79,900 whereas a base 8GB/128GB iPhone 15 Pro should set you back USD 999/GBP 999/EUR 1,199/INR 134,900. So, depending on where you live, the jump from vanilla to Pro is definitely on a spectrum. Even so, Apple is clearly employing the "decoy effect", commonly known as "popcorn pricing," for its lineup since the vanilla iPhone 15 is most of the way there money-wise, compared to the iPhone 15 Pro and the iPhone 15 Pro Max is not far off after that.
While we can't blame Apple at all for trying to upsell customers, the real question that you, as a consumer, need to answer here is whether the iPhone 15 Pro is worth the extra money.

Unless you really hate the new Pro titanium color options, there is no actual reason to consider a vanilla iPhone over the Pro other than price. Unfortunately, there is no "right" answer here, and it will all come down to personal wants and priorities.
Maybe you would appreciate the significantly better camera setup on the iPhone 15 Pro. You'd be getting a dedicated optical zoom camera, the autofocusing ultrawide cam with macro capabilities, or the highly-praised Apple ProRes video capture?
Not really a camera buff? Perhaps you enjoy modern high refresh rate displays and simply can't put up with 60Hz anymore.
Or, just maybe, you find yourself enticed by the possibility of AAA, "console-level" gaming on the iPhone 15 Pro. That last one is more of a promise than reality at this point in time, but a good one nonetheless.
If any of the above captivates you, then spending the extra cash on an iPhone 15 Pro is worth it. Otherwise, the vanilla iPhone 15 will realistically get you most of the way there, offer a similar overall experience, and hopefully last you about as long.
Source link