Movie
Believer Clip Shows Evil Entering the Church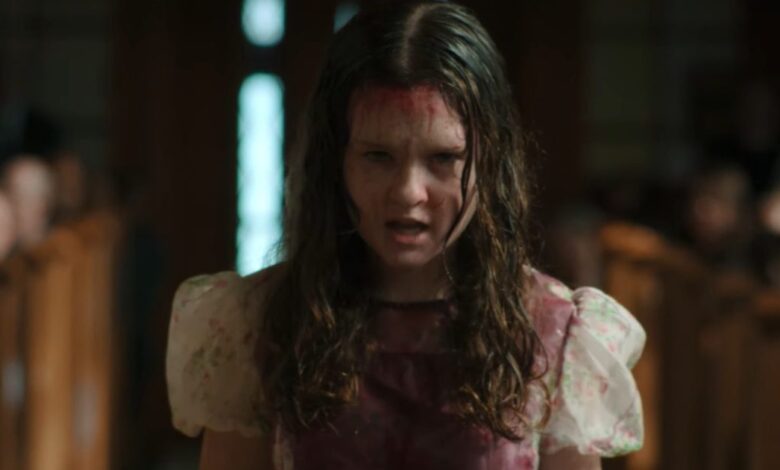 Universal Pictures has revealed a brand new The Exorcist: Believer clip from Blumhouse's forthcoming horror sequel, which will arrive in theaters on October 6.
This time, the sneak peek video is centered around Olivia Marcum's Katherine and her parents, played by Jennifer Nettles and Norbert Leo Butz. It shows the possessed Katherine entering her family's church as she interrupts the pastor's sermon.
Check out The Exorcist: Believer clip below (watch more trailers):
What to expect in The Exorcist: Believer?
"Since the death of his pregnant wife in a Haitian earthquake 12 years ago, Victor Fielding has raised their daughter, Angela on his own," reads the synopsis. "But when Angela and her friend Katherine, disappear in the woods, only to return three days later with no memory of what happened to them, it unleashes a chain of events that will force Victor to confront the nadir of evil and, in his terror and desperation, seek out the only person alive who has witnessed anything like it before: Chris MacNeil."
The Exorcist: Believer is the direct sequel to the original horror feature, which was adapted from William Peter Blatty's novel. David Gordon Green is directing from a screenplay he is co-writing with Scott Teems, Danny McBride, and Peter Sattler. The film sees the return of Oscar winner Ellen Burstyn, who will be joined by Leslie Odom Jr., Ann Dowd, Raphael Sbarge, and Jennifer Nettles, with newcomers Lidya Jewett and Olivia Marcum.
The sequel is produced by Jason Blum, David Robinson, and James Robinson, with Green, McBride, Couper Samuelson, and Stephanie Allain executive producing. It is a co-production between Blumhouse and Morgan Creek Production.
Source link