Movie
Butcher's Crossing Clip Transforms Nicolas Cage Into an Intense, Bald Buffalo Hunter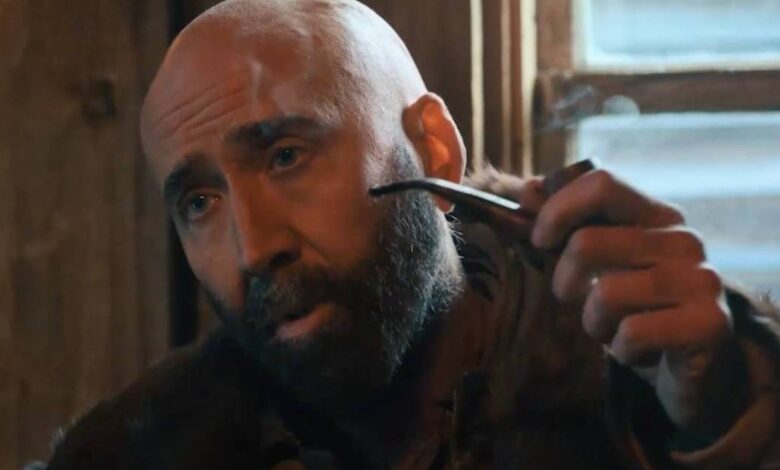 A new clip from Saban Films' Butcher's Crossing sees Nicolas Cage become an intense, bald buffalo hunter.
Shared with Collider, Saban Films posted a new clip from Butcher's Crossing, an upcoming western directed by Gabe Polsky. The footage sees Cage tell a character played by Fred Hechinger a story about how he once discovered a valley full of thousands and thousands of buffalo. While the trek to reach the valley is a dangerous one, Hechinger asks if he could lead another party there, which Cage agrees to do for a fee.
Check out the Butcher's Crossing clip below (watch more videos):
What is Butcher's Crossing about?
"Academy Award winner Nicolas Cage (1996, Best Actor, Leaving Las Vegas) stars in a gritty story about buffalo hunters in the Old West," the official synopsis reads. "Will Andrews (Fred Hechinger) has left Harvard to find adventure. He teams up with Miller (Cage), a mysterious frontiersman offering an unprecedented number of buffalo pelts in a secluded valley. Their crew must survive an arduous journey where the harsh elements will test everyone's resolve, leaving their sanity on a knife's edge."
Based on a 1960 novel of the same name by John Edward, Butcher's Crossing is directed and co-written by Polsky, who previously made a number of sports documentaries, including 2014's Red Army, 2018's In Search of Greatness, and 2019's Red Penguins. He also co-directed 2012's The Motel Life, which starred Emile Hirsch and Stephen Dorff, alongside his brother, Alan Polsky, and produced 2009's Bad Lieutenant: Port of Call New Orleans, which starred Cage.
Butcher's Crossing also stars Xander Berkeley, Rachel Keller, Jeremy Bobb, and Paul Raci. Polsky is also producing the movie with Molly Conners, Amanda Bowers, Will Clarke, and Andy Mayson.
Having premiered at the Toronto International Film Festival in 2022, Butcher's Crossing releases in United States theaters on October 20, 2023, from Saban Films.
Source link