World
Dozens of UK's Labour MPs break ranks to vote for Gaza ceasefire | Israel-Palestine conflict News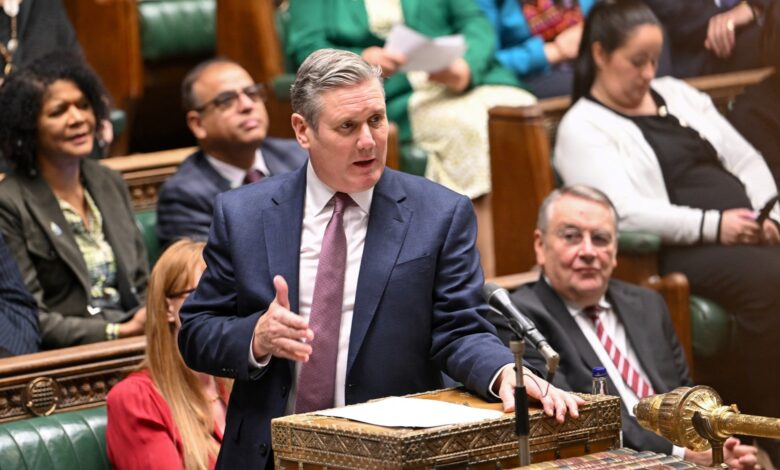 A group of 56 Labour lawmakers go against the party line to officially urge a truce in Israel's war in Gaza.
Dozens of British opposition lawmakers have voted to call for a ceasefire in Israel's war in Gaza, underscoring mounting unease within parliamentary ranks regarding Britain's foreign policy stance.
A group of 56 Labour Party lawmakers went against the party line on Wednesday by voting to amend the government's legislative agenda to officially urge for a ceasefire in Gaza.
The proposed legislative addition, introduced by the Scottish National Party, said the United Kingdom should "join with the international community in urgently pressing all parties to agree to an immediate ceasefire".
While the amendment did not pass, the strong support from the left-wing Labour Party put pressure on the bloc's leadership.
More than a third of 198 Labour MPs backed the proposal, including eight members of party leader Keir Starmer's policy team who abandoned their shadow ministerial posts to voice dissent.
Starmer has taken the same line on the Gaza war as Prime Minister Rishi Sunak, calling only for "humanitarian pauses" as opposed to a full ceasefire in Gaza.
Jess Phillips, a Labour deputy who backed the call for a ceasefire, said she was stepping down from her role as shadow domestic abuse and safeguarding minister with a "heavy heart".
— Jess Phillips MP (@jessphillips) November 15, 2023
"On this occasion I must vote with my constituents, my head and my heart," Phillips said in a letter to Starmer posted on the social media platform X, formerly Twitter.
"I can see no route where the current military action does anything but put at risk the hope of peace and security for anyone in the region now and in the future."
Divisions within Labour
The growing disquiet within Labour is challenging Starmer as he seeks to put on a united front ahead of elections next year that Labour is on pace to win, according to polls.
After the vote, Starmer said he regretted that some colleagues "felt unable to support the position".
"But I wanted to be clear about where I stood, and where I will stand," Starmer said.
Global pressure for a ceasefire in Gaza has been mounting more than a month into the war, which has killed more than 11,500 Palestinians, including thousands of children.
Israel's air raids and ground invasion have also displaced 1.5 million people and wrecked the territory's infrastructure.
Large protests calling for a Gaza ceasefire have swept the UK, including outside parliament during Wednesday's vote.
Starmer, while opposing a full ceasefire, had sought to toughen the party's position to say humanitarian pauses "must be longer to deliver humanitarian assistance … a necessary step to an enduring cessation of fighting as soon as possible".
That amendment was backed by 183 lawmakers, with 290 voting against it.
King Charles III, in his maiden King's Speech on November 7 outlining the government's upcoming policy agenda, reiterated the UK's staunch support for Israel.
He said the government would work to address the world's "most pressing security challenges", including "the consequences of the barbaric acts of terrorism against the people of Israel".
King Charles said Britain would also help bring "humanitarian support into Gaza and [support] the cause of peace and stability in the Middle East".