Business
Elon Musk's net worth drops $41 billion on Tesla earnings amid EV souring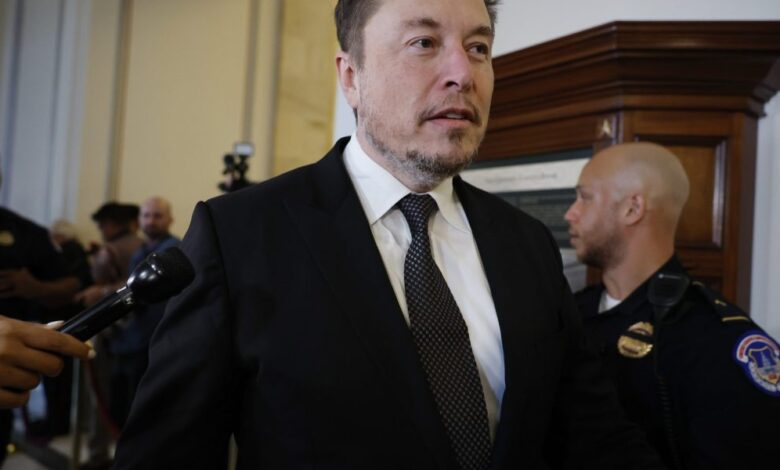 Elon Musk's net worth suffered yet another multibillion-dollar hit on October 30. And the Halloween-eve hair-raiser adds a cackling skeleton to a horror arcade of ghoulish news for EVs.
By 2:15 PM, Tesla shares had fallen from the previous close of $207 to $197 or 5%, lowering the value of Musk's 715 million shares and vested options by $7 billion in just less than five hours of trading. That drop deepens the sharp decline that started when Musk unveiled disappointing Q3 earnings, and a poor outlook, after the market close on October 17. Since that date, Tesla's shares have fallen by 23%, erasing $189 billion in market capitalization, and hammering the wealth for the world's richest person by $41 billion.
It's unclear what caused the steep one-day decline. But an announcement from Panasonic, Tesla's largest battery supplier, that it's lowering production due to a fall in EV demand, could be a factor. Or, the markets may simply be revaluing Tesla as primarily a metal-bending car manufacturer, as opposed to the vision that Musk has long promoted of a tech phenomenon promising software-sized margins. Tesla's Q3 numbers, and Musk's dour comments on the earnings call, suggest that Tesla's profitability is trending rapidly towards that of its automative peers, and not toward the Oracle-like heights he's been advertising.
For the quarter, the EV-leader recorded operating margins, excluding environmental credits, of just 5.3%, down from 16.1% in Q3 of last year. The normally ebullient Musk also dampened expectations for his forthcoming cybertruck, admitting that the futuristic vehicle forged from flat, stainless steel panels is so extremely expensive and complicated to build that "we shot ourselves in the foot" by pursuing the project. He gave no hope that margins will rebound, stating that––given the spike in interest rates––only by continuing to discount prices can Tesla keep monthly payments affordable, and volumes high.
While Tesla slashes prices, GM and Ford are both slowing their rollouts for EVs
In the last several weeks, Ford and GM both declared that they're sharply curbing ambitious plans for EVs. On October 17, GM announced that it will postpone the $4 billion repurposing of its Orion assembly plant in Michigan to manufacture electric pickup trucks from late 2024 to late 2025, delaying the rollout of models including the Chevy Silverado EV and GMC Sierra EV. On the earnings call, CFO Paul Jacobson said that GM will no longer follow its previous blueprint to sell 400,000 EVs from 2022 to mid-2024, and produce 100,000 during the second half of this year. Instead of providing new targets, GM will follow a flexible path by matching output to current sales that's running much lower than it forecast.
In her third-quarter letter, CEO Mary Barra wrote that the delays are needed to "protect prices," and "adjust to slower near-term growth in demand." GM repeated its goal of reaching capacity of one million EVs by the end of 2025. But it's predicting EBIT margins of "low to mid single digits" by that time, an outlook for profitability that slenderly raises the odds for future slowdowns in GM's EV campaign. On October 26, the automaker's ambitions in the space took another setback when GM and Honda canceled a $5 billion partnership, in place for just a year, to develop a series of affordable compact SUVs.
As for Ford, it's experienced poor sales on its first-generation EVs, and revealed losses in its electric segment rose to $1.3 billion in Q3 alone, twice the figure from last year. Pressure from its newly signed union contract that will raise wages 25% and provide cost-of-living adjustments over the next four-plus years is clearly pushing Ford to achieve far better productivity before accelerating its push into those deficit-generating offerings. On the October 26 earnings call, the Ford brass announced that they're delaying $12 billion in EV investments, and provided no timetable on when they'll unveil a new schedule. CFO John Lawler even suggested that Ford could reduce its previous commitments to EV investments, declaring that the $12 billion plan is provisional, and "it doesn't mean that we have to go ahead and pull the trigger if we don't need to. And we're going to look at the overall EV business and be balanced about that."
On the call, CEO Jim Farley acknowledged the thrust of why the U.S. giants are retreating. He maintained that customers are simply not willing to pay a premium for EVs over gas or hybrid vehicles. And of course, EVs cost much, much more to make. Those simple, scary economics have dashed enthusiasm over the "cars of the future." Only when the economics improve big time will the a new wave of optimism chase those ghosts that have given Elon Musk such a grave Halloween season.
Source link