Market
Experts fear auto workers' strike could have major ripple effects, worse than 2019 strike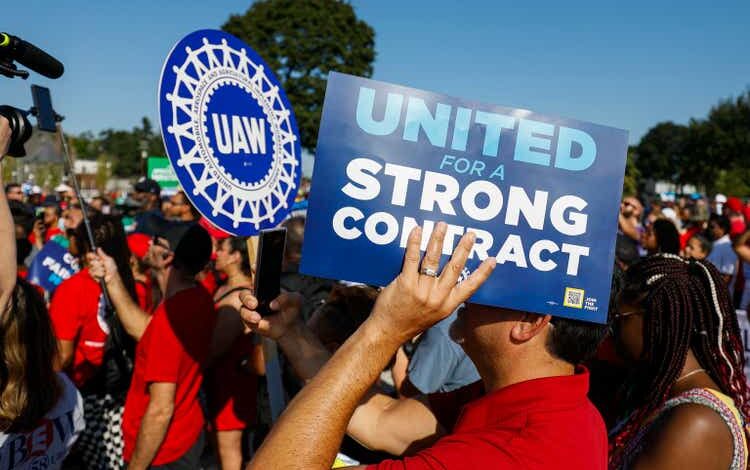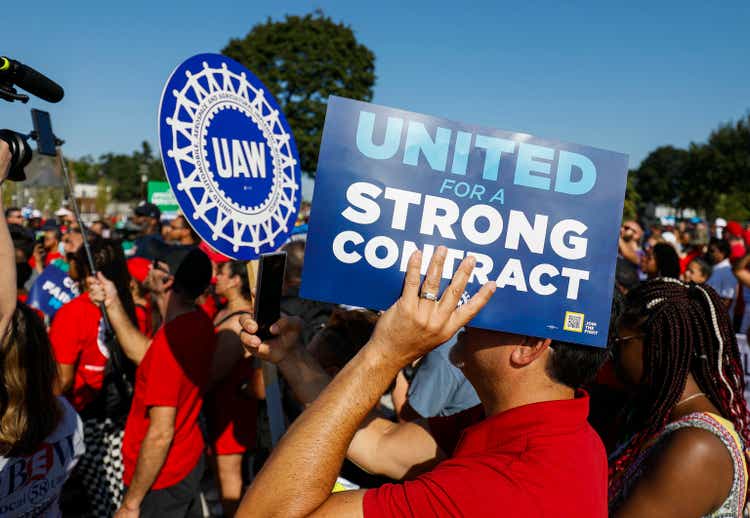 As the United Auto Workers union continues to negotiate contract terms with Detroit's biggest automakers, a looming strike of 146,000 American autoworkers could cost the economy billions of dollars in production and interrupted supply chains.
As a deadline looms for contract talks, experts have raised concerns about the impact of a strike against the Big Three U.S. automakers — General Motors (NYSE:GM), Ford (NYSE:F) and Stellantis (NYSE:STLA), which was formerly Chrysler, Dodge, and Jeep. This comes after setbacks last week raised the probability of a potential strike.
According to information provided to Bloomberg by Anderson Economic Group, a strike could cost the U.S. economy $5.6 billion in gross domestic product and could push the Michigan economy into a recession. The firm added that lost worker pay could be equal to $859 million and lost automaker earnings could be $989 million. Meanwhile, layoffs and lost business at firms connected to the Big Three, like parts makers, would add to the economic damage.
Anderson Economic Group added that a strike could also create problems for consumers, in the form of increased prices for cars and a scarcity of some models.
During the 40-day strike in 2019 against GM, the auto giant said the company suffered a production loss of 300,000 vehicles, costing the firm almost $3.6B in earnings.
Anderson Economic isn't the only expert predicting a major impact from a potential strike. In an interview with Fox 2 Detroit on Wednesday, Alan Amici, president and CEO of the Center for Automotive Research, said that a strike would be "disastrous" not only for the Big Three, but also for the industry's supply chain.
"If there is a return to work, shortly afterwards, it can be challenging to stop and restart a supply chain," he said. "So, the ramp up to production can be a little bit rocky."
The 2019 GM strike dropped prices of hot-rolled steel 17% to $500 a ton over the six-week period. A new strike might have similar effects but drop prices to $670 a ton.
Steel production might also fall by 76,000 to 98,000 tons a month, according to Richard Bourke, senior credit analyst at Bloomberg.
Meanwhile, the top representative for the auto workers has stressed the union's desire to avoid a strike, while still underlining its goal of reaching an equitable agreement for its members.
In an interview last Thursday with CNBC, UAW president Shawn Fain reported that while corporations made "a quarter of a trillion dollars in the last decade," union members "went backwards, we lost money."
"They made $21B in the first six months of this year," he added.
The auto industry accounts for 3% of U.S. GDP, and in the last year, the cost of vehicles went up 30%. Automaker CEOs have argued that if they agree to a 46% increase in pay, as union negotiators have pushed for, the price of cars will likely rise even higher.
According to Bloomberg, automakers estimate that UAW demands could rise costs by $80 billion over four years.
Fain said he believes this is price gauging, the "exploitation of a circumstance. Our wages went up 6%, corporate CEO's [wages and compensation] went up 40%. This boils down to one thing, corporate greed."
Beyond the 46% increase in pay, the union is also asking for a four-day workweek at full pay, share of company profits, protections for workers if manufacturing plants close and the restoration of traditional pensions are included.
Offers from the Big Three, however, have fallen short of the UAW's demands.
So far, GM agreed only to a 16% raise in pay to its roughly 46,000 union-represented workers, 20% increase in pay for temporary workers, and some 56% increases in wages over their four-year contract. UAW members start their salary at about $18 an hour.
GM also proposed two additional 3% lump sum payments, a $5,500 ratification bonus, a $6,000 one-time inflation-recognition payment, and $5,000 in inflation-protection bonuses over the four-year agreement.
In his interview last week, Fain said that the offer "doesn't come close to an equitable agreement for America's autoworkers."
Another counteroffer from Ford was also received, "nowhere near meeting our demands," he said last week on a CNBC interview. "Instead of guaranteed wage increases, it didn't address job security initiatives or retirement security."
Ford's presented contract proposal offered a 9% wage increase over the term of the contract, plus a one-time payout, bringing the total raise in compensation to 15%.
Stellantis, which previously offered a 14.5% pay increase, said on Monday that it plans to make a new counteroffer before the strike deadline, which is Sept. 14 at 11:59 p.m. ET.
More on United Auto Workers:
Source link