World
More death and destruction in Gaza as Israeli attacks continue | Israel-Palestine conflict News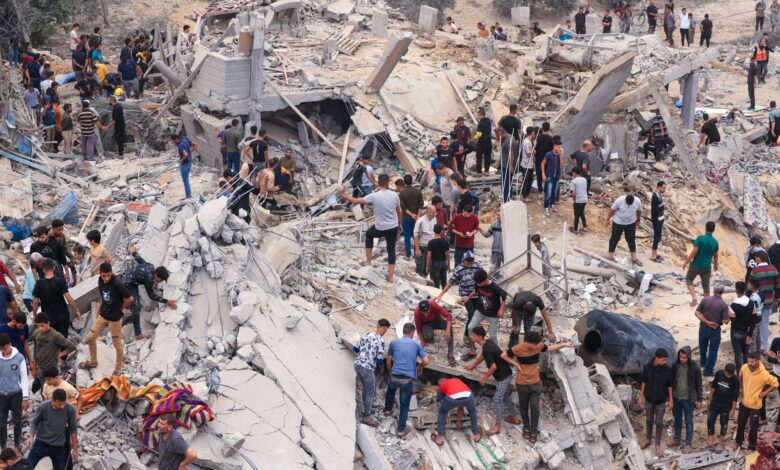 Israeli air strikes in Gaza have killed more than a dozen people and destroyed the main hospital's cardiac ward, Gaza officials say, as fighting continues in the besieged strip for the 37th consecutive day.
At least 13 people were killed in an Israeli air strike on a home in Khan Younis, Gaza officials reported on Sunday. Israeli forces also continued their siege around Gaza's largest hospital, al-Shifa, where health officials said thousands of staff, patients and displaced people remain trapped with no electricity and dwindling supplies.
The spokesperson for the Ministry of Health in Gaza, Ashraf al-Qudra, has told Al Jazeera that al-Shifa Hospital is completely out of service, and cannot provide any treatment even to the patients inside the facility, due to constant Israeli attacks.
Israeli bombing has been targeting the vicinity's external surroundings as well as anyone walking inside the courtyard and between its various buildings, and those wanting to reach the gate of the complex.
"We have deaths in the nursery after the life support machines stopped working inside the section that includes 37 other children who may be on the verge of death," al-Qudra said.
He added that there were five deaths among the wounded as the medical teams were unable to perform surgical operations on them due to the power outage and lack of fuel.
More than 11,000 Palestinians, two-thirds of them women and children, have been killed since the war began, according to the Health Ministry in Gaza. About 2,700 people have been reported missing and are thought to be trapped or dead under the rubble.
Source link