Blogs
Nearly 300,000 Rally in Washington for Israel and Hostages' Release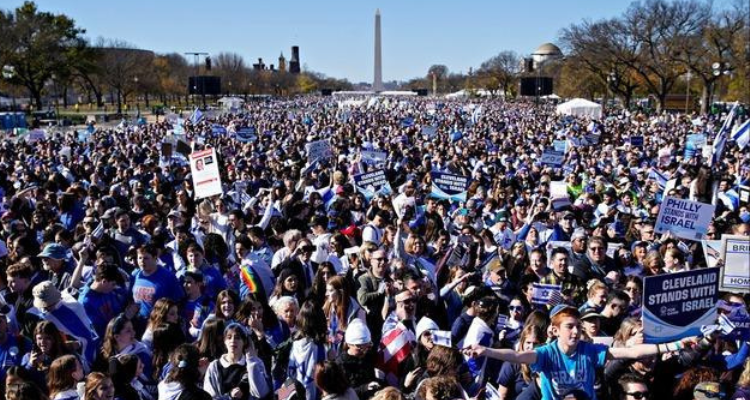 In Washington on Tuesday, close to 300,000 individuals gathered for the March for Israel, a rallying cry demanding the release of hostages held by terrorists in Gaza. The event condemned Hamas's October 7 onslaught, echoing the haunting words of "Never Again" in reference to the Holocaust.
William Daroff, CEO of the Conference of Presidents of Major American Jewish Organizations, reported a historic attendance of over 290,000, marking it as the largest pro-Israel assembly in US history. Commuters, coordinated by local Jewish federations, schools, synagogues, and Israeli expatriate groups, flooded into the US capital. Meanwhile, President Isaac Herzog, virtually addressing the crowd from the Western Wall in Jerusalem, passionately called for the release of Gaza's hostages, emphasizing that "Never Again is now."
He portrayed the gathering as a united mishpacha, marching for the lives held captive by Hamas, advocating for the right of every Jew to live securely globally, and symbolizing the triumph of good over evil. Herzog commemorated the Holocaust's legacy, drawing parallels to recent events, and commended US President Joe Biden for his resolute actions.
House Minority Leader Hakeem Jeffries delivered a poignant speech, chronicling historical Jewish persecution and firmly supporting the moral case for Israel. He stressed the need for unity against antisemitism, urging the safeguarding of the State of Israel as a secure haven for the Jewish people.
In response to pro-Palestinian protests advocating for a state "from the river to the sea," Senate Majority Leader Chuck Schumer condemned the notion, asserting solidarity with Israel. House Speaker Mike Johnson criticized calls for a ceasefire as outrageous, aligning with Israel's stance that it hinges on the release of hostages.
Deborah Lipstadt, the Biden administration's antisemitism envoy, declared the US government's unwavering opposition to Jew hatred, emphasizing the rejection of antisemitism in all spheres of American life. She underscored the societal dangers posed by hate, linking it to instability and indecency.
Relatives of the hostages, who were taken captive during the October 7 rampage in southern Israel, shared their anguish. Rachel Goldberg, mother of a hostage, pleaded for international awareness and the safe return of the victims. The rally also featured impassioned speeches from parents and relatives, shedding light on the suffering and uncertainty faced by those kidnapped.
While diverse voices echoed in support of Israel, controversy arose over the inclusion of evangelical Pastor John Hagee as a speaker, drawing criticism from progressive groups. Despite this, the event received a "Level 1" security designation, underscoring its significance and requiring heightened law enforcement measures.
The March for Israel served not only as a demonstration of solidarity but also as a message of gratitude to President Biden for his unwavering support. The rally unfolded against a backdrop of escalating pro-Palestinian protests and a surge in antisemitic incidents, reflecting a complex and charged geopolitical landscape.