Shopping
Popular Kids' Toys on Amazon for Christmas 2023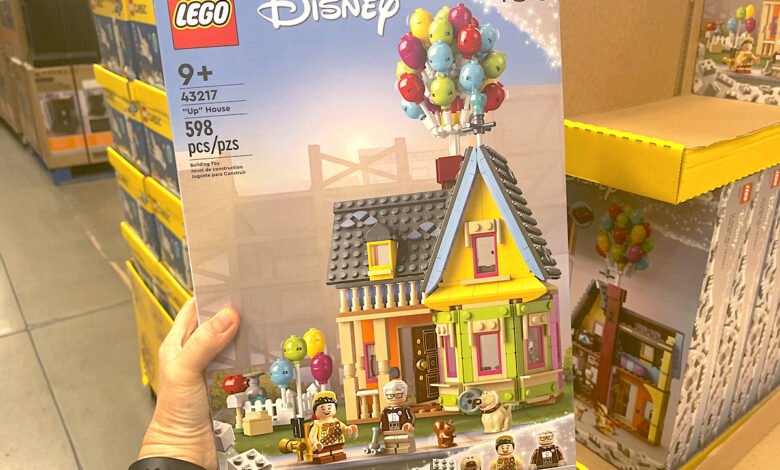 These are the hottest kids' toys trending on Amazon for Christmas 20223
Tons of Amazon's Toys We Love are on sale for Prime Day!
If you're shopping for the kiddos in your life, Amazon's 2023 toy list is full of gift ideas at every price point!
This year's list includes tons of products and toys from beloved brands like Melissa & Doug, LEGO, Barbie, National Geographic, and more!
December 25th will be here before you know it! If you're still on the hunt for your child's most-wanted toys, this is a great place to check!
If you're shopping with Amazon Prime, you'll receive fast shipping and hopefully have everything on hand in plenty of time for the holidays. Not a Prime member yet? Sign up for a FREE 30-day trial here
Here are some of the HOTTEST kids' toys on Amazon's Christmas 2023 'Toys We Love' List:
Movie fans will love this special LEGO set that celebrates the hit movie Up. This 598-piece set comes with everything you need to create a replica of the Up house – including tons of balloons! It even comes with figurines of Dug, Russell, and Carl. This is one of a limited number of collectible sets that was released to celebrate Disney's 100th anniversary! Scoop one up while you can! It's best for those 9 years and older.
If a Disney LEGO set excites you, don't forget to check out the LEGO DUPLO 3-in-1 Magic Castle that also made Amazon's Toys We Love list!
---
Is your little one going to be walking soon? This best-selling and top-rated walker is just what your kiddo needs! Your child can play with the removable activity pad while sitting down and when ready, can use it as a walker to develop balance. This innovative toy helps with fine motor skills, auditory training, and balance development. It comes in a variety of colors too!
---
Help your child learn color recognition and develop sorting skills with this adorable Farmer's Market Color Sorting Set. It comes with 25 pieces of realistic play food, 5 sorting baskets, an activity guide, and stickers for labeling. Sort by colors or types of food. This toy has almost 14,000 5-star reviews. It's best for those 18 months or older.
---
If your child has been dreaming about a Barbie Dreamhouse, the 2023 version will not disappoint! This iconic doll house features over 75 pieces. It includes 10 different play areas, a 3-story spiral slide, and a pool. It even has a top-floor balcony with a palm true. Animal lovers will adore it too! The house comes with a puppy figurine, pet elevator, pet slide and pool, pet house, pet bed, and doggie door!
If you're shopping for Barbie, don't forget to check out the Barbie Remote Control Corvette and The Barbie Movie Collectible Ken Doll – both of which also made Amazon's Toys We Love List for 2023.
---
Who says playtime can't be educational? This cool STEM kit has over 15 science projects for kids 8 and older to do! Your little one will stay busy making an erupting volcano, growing a crystal, doing geological dig kits, and playing with dueling water tornadoes. This is one gift that is sure to be a hit! If you're child already has this toy, consider gifting them the National Geographic Microscope Set the National Geographic Space Nightlight Craft Kit, National Geographic Pottery Wheel, or the National Geographic Advent Calendar (all of which made Amazon's Toys We Love List).
---
Gift your child a timeless toy! Your kiddo will have a blast learning how to make different figures out of sting. This toy recently won a Parents Choice Award and it not only made Amazon's Toys We Love list, but it also made our own list of the Best Amazon Stocking Stuffers for 2023.
---
This 25-piece dental kit comes with everything your child needs to pretend to be a dentist. They can give teeth cleanings, fit a mouth for braces or a retainer, and even treat cavities. The set includes examination tools, a toothbrush, a toothpaste tube, a dental rinse bottle with cup, a set of pretend teeth, dry-erase marker, 2 gauze pads, 3 tooth polish cups, bottom retainers and braces, a mask, reusable ID tag on a lanyard, and a double-sided reusable activity card. It's perfect for ages 3 and older.
---
Does your child adore plushies? If so, they will love this fun surprise! This giant plush toy comes in a tiny box. Unbox it and place it in the sun to watch it grow to an enormous 44 inches! The toy comes with some fun activities to do while you wait for your animal to grow. There are several animal choices including a sloth, tiger, husky, dog, dinosaur, and more!
---
Calling all Hot Wheels fans! This hauler can store 20 1:64 Hot Wheels cars. It also transforms into a T-Rex that lights up, makes sounds, and makes a stomping motion. The back of the T-Rex acts as a racetrack and you can launch cars out of its mouth! This big toy is sure to be big fun!
---
"I scream, you scream, we all scream for ice cream!" Your little one can run their own ice cream shop and serve you a variety of fun creations. The set comes with a wooden ice cream counter, a soft serve dispenser, a magnetic menu board, a magnetic write-on ordering and payment tablet, soft serve swirls, wooden ice cream scoops, sandwiches, cones, a waffle cone, snap-on hot fudge, a milkshake cup, an ice cream scooper, sprinkles, a play credit card, and more! It's a wonderful toy for ages 3 -7.
---
Cowabunga, dude! Your kid will love playing with this remote control Raphael doll that rides a skateboard. He does all sorts of skateboarding tricks. If he falls down, he's designed to get right back up! Appropriate for ages 5 and older.
---
Bold Made Card Game – $17.99 after coupon (regularly $24.99)
Old Maid may be a classic card game, but the theme of avoiding being a spinster is a bit outdated. Luckily, the game has been reimagined! This new version features celebrates the achievements of women like Harriet Tubman, Anne Frank, and Marie Curie. Instead of hoping you don't get stuck with an old maid, your goal is to be stuck with the Bold Made card.
---
Spoil your child aged 3 or older with a workbench of their own! This set comes with 70 wooden pieces including nuts and bolts, a wrench, a screwdriver, a saw, an electric drill, and a hammer. Have fun seeing what your child creates!  
---
Foster a love of artwork with this handy light-up tracing pad. The surface lights up easily so your kiddo can practice their line work and draw all sorts of beautiful images. It comes with a graphite pencil, 12 short colored pencils, 10 tracing sheets, and 10 blank sheets. Just note that it does not include the 3 AA batteries that are required.
---
If your child is a fan of Monster High, they will love this Clawdeen Wolf Doll that comes with her own fashion Boo-tique. Help her get ready at her vanity with a stool. Her clothes can hang from her coffin-shaped rack. Enjoy 20+ fashion accessories including jewelry, shoes, outfits, a scarf, a comb, and more!
---
Step2 Adventure Camper – $264.98 after coupon (regularly $349.99) – the lowest price
If you're willing to splurge, this is one amazing toy! Your child can pretend to be camping any day of the year! This Adventure Camper includes a stovetop, working doorbell, sensory clicking knobs, and a molded-in kitchen. It also includes a play grill so your kiddo can whip up some play burgers. It comes with a 50-piece toy accessory set including play food and utensils.
---
Want more? See all 100+ kids' toys on Amazon's Christmas list, then check out these gift ideas for all ages!
Source link