Business
Rolex and luxury watch thefts up 60% in 2022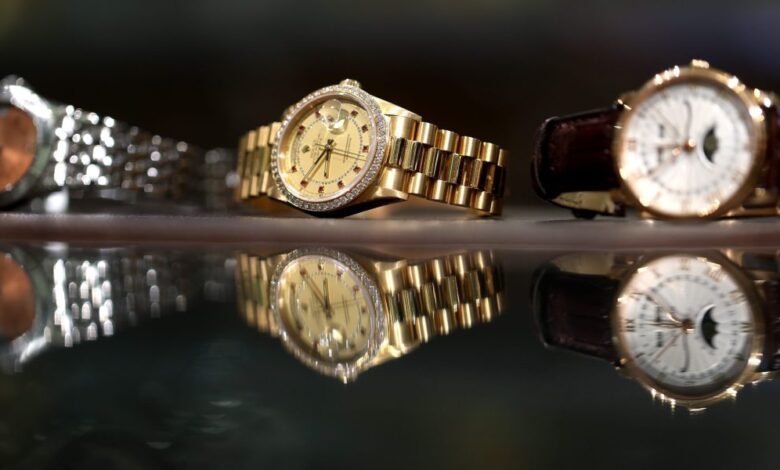 Watch owners have been warned to keep a vigilant eye on their prized timepieces after becoming a major target for organized criminals.
More than £1 billion ($1.3 billion) worth of watches have been reported stolen or missing in 2022, following a surge in watch thefts last year. 
The Watch Register, a company which is dedicated to helping watch owners and auction houses recover stolen items, revealed close to 80,000 watches were reported lost or stolen in total last year. That's a 60% jump compared to just a year earlier, according to a release published on Monday.
"The considerable value and prestige of these high-end timepieces continues to attract the attention of sophisticated and international criminal networks, making them a prime target for theft," Katya Hills, the Watch Register's managing director, said in a statement.
Of all the luxury brands the Watch Register tracks, a specific label was preyed on more than any other.
Swiss-made Rolexes made up 44% of the stolen watches—a far cry from the second highest on the list, Omega, at 7%. Other watches that have also been reported missing include Tag Heuer, Cartier, and Patek Philippe. 
"The increasing number of stolen luxury watches also serves as a stark reminder of the risks faced in safeguarding such high-value possessions," Hills said. 
A global market
Luxury watches are seen as an investment and are sought-after collectibles among affluent owners and enthusiasts—some of whom will pay tens of thousands of dollars for a rare piece.
In recent years watch thefts have been spurred by a strong resale market that often commands higher prices than the primary retail market. 
On top of that, watch resales occur in a global marketplace. More than 6,000 luxury watches were reported stolen in London alone last year, according to data obtained by industry resource center Watchfinder & Co. and reported by the Evening Standard.
Cities elsewhere in the world are seeing an uptick in watch-linked robberies too.
In Los Angeles, for instance, there was a 30% increase in watch thefts from January 2022 to November 2023, when compared to the same period a year before.
Nobody is too high-profile to be targeted. A number of A-list personalities have also fallen victim to such crimes, including former boxer Amir Khan and cyclist Mark Cavendish.
Secondary watch sales enjoyed a heyday during the COVID-19 pandemic when people were able to splurge on luxury items.
But even the sky-high prices of resale watches have now taken a hit amid the global economic downturn, with prices slumping to near two-year lows earlier this month according to Bloomberg's Subdial Watch Index.
For instance, the price of Audemars Piguet's Royal Oak Jumbo Ultra Thin model is down 49% in the past 17 months, according to Bloomberg's index, from being valued at $138,000 in March 2022 to less than $70,000 now.
Rising interest rates, easing consumer spending, and a growing fear from watch owners over potential thefts are believed to be driving prices down. 
Brands are doing their bit to ensure people don't give up on collecting watches because of the associated surging crime rates. For instance, Swiss company Audemars Piguet, which makes the coveted Royal Oak model, said it would offer to refund or replace people's stolen watches as part of a two-year service program. 
Other brands like Richemont are working on a larger online database that can help the police fight luxury watch theft by having customers register their pieces. 
Source link