Movie
SAG-AFTRA Issues Statement as Negotiations With AMPTP Resume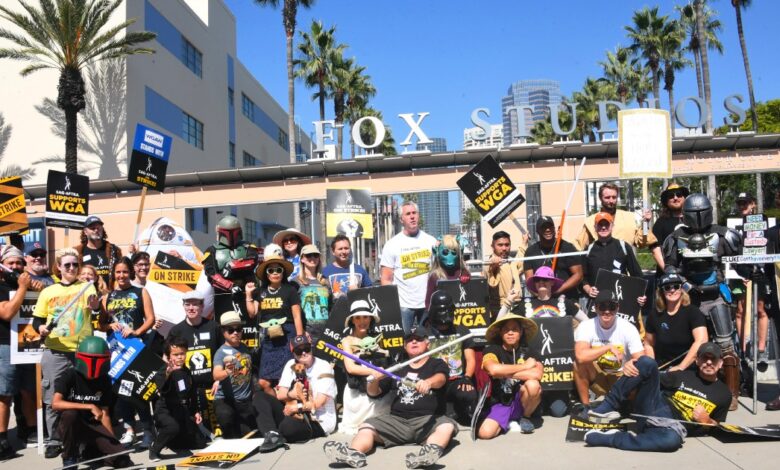 The Screen Actors Guild-American Federation of Television and Radio Artists (SAG-AFTRA) has issued a statement now that the organization is resuming negotiations with the Alliance of Motion Picture and Television Producers (AMPTP).
Per DiscussingFilm, SAG-AFTRA shared a statement with its members as negotiations resume with AMPTP to end the actors strike.
The statement reads, "To our fellow SAG-AFTRA members, Today, we go back to the bargaining table to fight for the contract you deserve. As we negotiate, we ask that you not let up. Keep turning out in full force on our picket lines and at solidarity events around the country. Let the AMPTP hear your voices loud and clear. It makes a difference. YOU make a difference. We will continue to communicate updates with you directly. One day longer. One day stronger. As long as it takes."
SAG-AFTRA went on strike on July 14, 2023. The strikes lobby for better pay, protection against artificial intelligence, and more for actors. Since the strike began, the majority of Hollywood productions have had to temporarily suspend production, while certain films and actors complying with SAG-AFTRA guidelines have been granted waivers to continue filming or promoting upcoming releases.
WGA issues a statement about SAG-AFTRA and AMPTP's negotiations
The Writers Guild of America (WGA) also went on strike on May 2, 2023, for similar reasons as SAG-AFTRA. The writers strike officially ended on September 27, 2023, after the WGA and AMPTP reached an agreement.
On October 2, WGA issued a statement regarding the SAG-AFTRA strike. It reads, "The WGA West and East call upon the AMPTP and its member companies to negotiate the fair deal that members of SAG-AFTRA need and deserve. SAG-AFTRA has been on strike for more than 70 days as it fights for a contract that allows performers to share in the value of the work they help create. Rather than engage in the traditional AMPTP tactic of pushing a deal on SAG-AFTRA that is patterned on our own tentative agreement or any other industry deal, a strategy which has already caused considerable delay and suffering, the companies must make a deal that addresses the needs of performers. WGA members will continue to show up on picket lines and support SAG-AFTRA until they reach that deal. Solidarity forever."