Shopping
Sling TV Freestream Gets You Over 400 Channels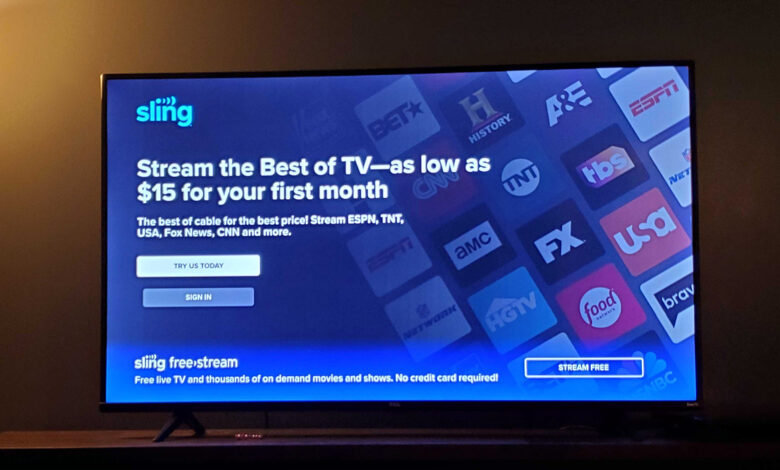 Looking for a new streaming service? Check out these Sling TV packages!

Sling Freestream lets you watch live & on-demand TV plus movies for super cheap!
Did you know that Sling TV has launched an ad-supported streaming option called Sling Freestream where you can access more than 400 FREE live TV channels plus over 40,000 on-demand shows and movies? If you've been wanting to ditch the high cost of cable TV or lower your monthly streaming bill, this could be a great option for you!
Right now, you can sign up for a new Sling Freestream account – there's no credit card or payment required for the free service. Just create your free Sling Freestream account here and start watching your favorite shows and movies NOW!
Best of all, there are Sling TV channels for everyone that have news, true crime, reality TV, popular shows like The Walking Dead – even Nick Jr. for your littles.
If you want access to even more channels & movies, live sports, additional streaming options, and NO ADS, you can sign up for a paid Sling TV account and get your first month for up to 60% off! (New subscribers only.) Packages start as low as $15 (regularly $40) – no promo code needed! Just click on the SlingTV icon on this link to view all the packages and offers.

What is Sling TV?
If you're unfamiliar with Sling, it is the first app-based TV service that gives you the flexibility to stream live television and on-demand content.
Plus, each Sling TV package includes 50 hours of cloud-based DVR storage so you never have to worry about missing your favorite live TV shows. And, if that's not enough, you can update to DVR Plus and get 200 hours for just $5 extra per month!
You can also easily purchase extra channels and premium add-ons to fully customize your monthly Sling TV subscription to meet your family's ever-changing entertainment needs. Plus, a couple of their packages allow you to stream on multiple devices at the same time making it perfect for families who can never agree on what to watch.
You may even save yourself a nice chunk of money each month. Services like YouTube TV or HULU+ Live TV cost $70+ a month. Premium cable packages can be even more. Even after the first month, Sling TV is MUCH more affordable.
How can I watch Sling TV? 
Gone are the days of calling the cable company to schedule a day for a hook-up and then waiting hours for someone to come and install equipment. Sling TV is super convenient to start using right away as their app is supported by the most popular brands of smart TVs and streaming devices including Fire TV, iOS or Android devices, ROKU, Chromecast, XBOX, and more.
You probably already have at least one of these supported devices at your disposal. That means you can start enjoying your new Sling subscription immediately after signing up!
How much is Sling TV? 
Is Sling TV free? It can be! Sling offers a new FREE ad-supported streaming service called Sling Freestream and it won't cost you a dime!
Sling TV offers paid packages too. If you want access to even more live TV channels & movies, live sports, and streaming that is AD-FREE, Sling offers three different affordably priced premium packages between $40 to $55 per month. However, with this special introductory offer, you can try out Sling's premium packages today for as low as $15!
Every streaming package features the same 25 base channels. This includes standouts like A&E, AMC, CNN, The History Channel, HGTV, The Food Network, Nick Jr, and Cartoon Network. Here's a closer look at how the packages differ.
*Note that you can score $7.50 cash back from Ibotta with the purchase of a Sling TV Subscription. Valid for new subscribers only.
Check out these Sling TV packages…
Sling TV Freestream Subscription
FREE! (with ads)
Is Sling TV free? Yes, the Sling TV Freestream subscription is FREE! With the Sling TV Freestream subscription, you get access to a FREE ad-supported streaming option called Sling Freestream where you will receive access to over 400 free live TV channels and over 40,000 on-demand shows and movies for FREE (with ads)!
Sling TV Orange Subscription
Only $20 for the first month (regularly $40)!
With the Orange Package, you'll receive 31 channels geared toward college football and family content. This includes the Disney Channel and 3 ESPN Channels, 50 hours of DVR cloud storage, and streaming on one device.
Sling TV Blue Subscription
Only $20 for the first month (regularly $40)!
With the Blue Package, you'll get 42 channels geared toward pro football and news outlets like NBC, FOX, and MSNBC. Plus, you can stream on up to 3 devices at once.
Note that if you decide to keep your paid Sling TV service after the first month, you will automatically be charged the regular monthly price for whichever package you decide on. You can cancel at any time online or in the app. Your subscription will remain active for the remainder of the billing month.
---

Don't forget to download the Sling TV app to tour devices!
You can watch Sling TV on a ton of a different devices – from your XBOX One to your Roku. Head over to Sling TVs website for instructions on how to get the app on your specific device.
Not for you? Here's how to cancel Sling TV.
If you're not loving it, you can cancel Sling TV at any time. Just go to your My Account dashboard and select the Cancel Subscription link. Follow the instructions and once finished, Sling TV will send you a confirmation email. It's that easy!
---
YouTube TV vs. Sling TV: What's the difference?
The big difference is that Sling TV is more economical!
Not only does Sling offer a FREE services, but it has several add on Sling TV packages that are all under $60. It also offers a few TV channels that you won't get with YouTube TV.
The YouTube TV base package offers more channels than Sling (over 100 live channels plus exclusive sporting events), but you're also paying a higher dollar amount. The cheapest YouTube TV package starts at $62.99 for the first 3 months and then you'll pay $72.99 after that!
One perk worth noting is that with YouTube TV you have unlimited DVR space versus just 50 hours on Sling, but for many households this won't be a deal breaker.
If you're truly looking to cut down on streaming costs, Sling may be the answer!
Check out Hip2Save's Jessica's thoughts on how it compares to YouTube TV:
I have only been using it for a month. After our YouTube TV bill went up another $10 to over $80/month I went looking for something else and found a deal on SlingTV – I believe it was $30 for the first month (we choose the highest $ package – the orange and blue package) it will be $55/mo after the first month. I like the extra channels I get that I did not get with YouTube TV – like extra comedy stations and you can also pick packages like pay a little more for scary channels or multiple AMC channels etc. The only thing I don't like is the DVR only holds up to 50 hours whereas YouTube was as much as you'd like. BUT since it's $30 cheaper a month than YouTube TV I'll live with that! – Hip Sidekick, Jessica
---
Other Hip2Save team members love the service too. Check out their Sling TV reviews…
My boyfriend has Sling and another cool perk I love is the on-demand options. I canceled my discovery plus membership but I can watch all my favorite true crime shows via Sling on demand! – Hip Sidekick, Monica
---
I was a Sling subscriber on and off from 2016 – 2019. As a huge fan of The Walking Dead and having been an early adopter of cord-cutting, there weren't many options available at the time to stream the live episodes. It was super convenient not having a contract. I could subscribe when the new seasons would premier and then cancel after the last show. I might actually resubscribe to watch the new The Walking Dead: Dead City now that I got my husband hooked on the original series! Plus, it looks like Cocomelon is on Sling, so my little guy will still be able to watch his favorite show too! – Hip Sidekick, Nicole
---
Source link