World
Steinmeier says Arabs in Germany should distance themselves from Hamas | Israel-Palestine conflict News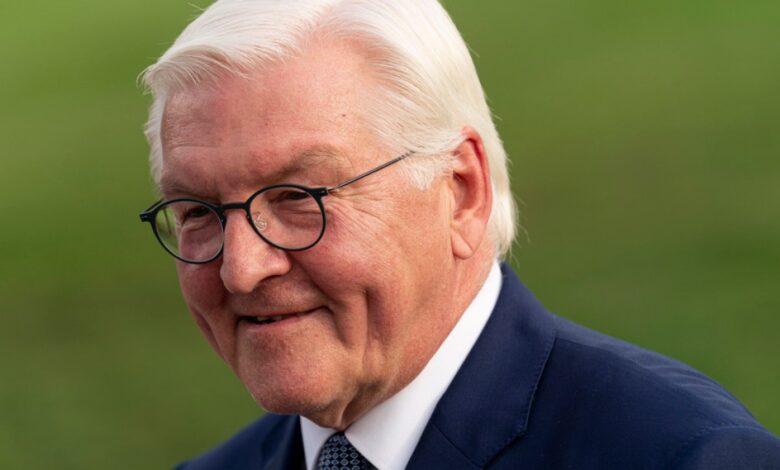 Germany's president urges 'clear stand against terror' anti-Semitism.
German President Frank-Walter Steinmeier says Germans of Arab and Palestinian descent should take steps to distance themselves from anti-Semitism and the Palestinian group Hamas as pro-Palestinian demonstrations in the country have triggered controversy.
In remarks on Wednesday, Steinmeier said he was concerned that fighting between Israel and Hamas could have a disruptive effect on social relations in Germany.
"Speak for yourselves and make a clear stand against terror," Steinmeier said, adding that Palestinians had the right to express anguish over civilians killed in Israel's attacks on Gaza but that this freedom did not include "calls for the destruction of the state of Israel".
The comments have drawn criticism, adding to concerns that efforts by European countries to contain tensions over the war that began on October 7 may be crossing over into discrimination against Palestinians.
"Jews should never be made to account for Israel's actions," Hugh Lovatt, a foreign policy analyst with the European Council on Foreign Relations, said in a social media post. "So why should Germany ask its Muslim citizens to account for Hamas's?"
Steinmeier insisted that there must be no anti-Muslim racism or "general suspicion against Muslims".
This month, Germany announced a complete ban on the activities of Hamas and ordered the disbanding of a pro-Palestine group accused of spreading anti-Israel and anti-Semitic ideas. Hamas is already designated as a "terrorist" organisation in the country.
On Tuesday, a report by the German Centre for Integration and Migration Research (DeZIM) found that nearly 40 percent of German Muslim men said they had experienced racism or discrimination when dealing with police and public offices.
Jewish, Muslim and Arab communities across the world have expressed anxieties about increasing discrimination and even violence as fighting rages in Gaza.
In the United States, a six-year-old Palestinian-American boy was stabbed to death by a landlord who police said was angry about events in the Middle East.
In mid-October, a Jewish synagogue in Berlin was firebombed, prompting German Chancellor Olaf Scholz to state that Germany stands "united for the protection of Jews".
Palestinian residents of Germany said authorities have cracked down on peaceful protests, which are banned entirely in many parts of the country. In Berlin, schools have also been given authority to ban traditional Palestinian clothing, such as the keffiyeh headdress.
German military exports to Israel have risen tenfold in the past year, the Reuters news agency reported on Wednesday, with Berlin fast-tracking permits even as Israel's war in Gaza, which Palestinian authorities said has killed more than 10,569 people, comes under growing criticism.
Israel said it is working to dismantle Hamas, which launched deadly attacks on southern Israel on October 7, which Israeli authorities said killed more than 1,400 people, most of them civilians.
Source link