World
Taiwan's opposition coalition fails to pick candidate amid polling dispute | Politics News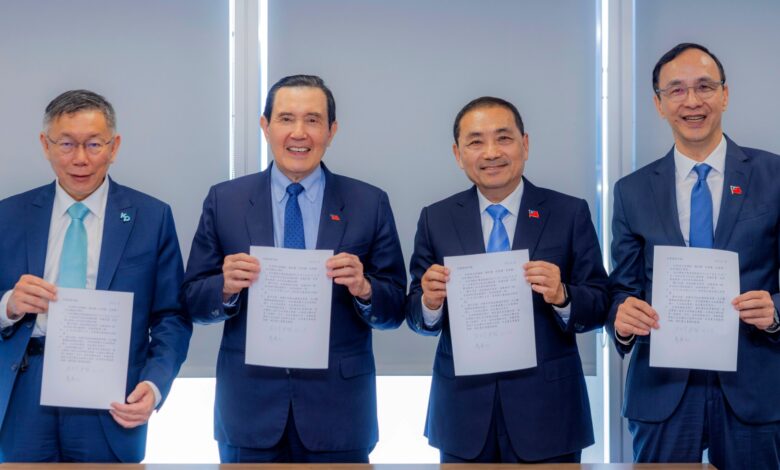 KMT and TPP were due to announce which candidate would run for president on Saturday.
A coalition between Taiwan's rival opposition parties has hit a roadblock after party leaders were unable to agree on who will run for president in next year's election.
The Kuomintang (KMT) and Taiwan People's Party (TPP) said on Saturday they were unable to agree on the statistical method for looking at polling that would have determined which candidate would run as president and which would run as vice president.
The parties had been due to release the poll results on Saturday morning after earlier in the week agreeing to form a joint ticket.
A TPP spokesperson said its candidate Ko Wen-je had tied with the KMT candidate Hou Yu-ih, while the KMT said Hou won in a landslide.
Also at issue was how to count phone calls, with the KMT refusing to accept the results from cell phones, according to the TPP.
The rift comes just days after the two parties agreed to work together in a surprise deal brokered by former President Ma Ying-jeou.
The deal had been seen as helping to unite the fractured opposition vote against the ruling Democratic Progressive Party in the January 13 election.
Both candidates were polling behind the ruling Democratic Progressive Party's William Lai, the incumbent vice president. Terry Gou, the billionaire founder of Apple supplier Foxconn, has been running in a distant fourth place.
The KMT and the TPP said on Saturday they would continue to work together for now, although it is unclear when the ballot will be decided.
Ko told reporters that he still thought it was "necessary to join the forces of the opposition" and find the best pairing of candidates.
Ko and Hou are former mayors of Taipei City and greater New Taipei City, two of Taiwan's largest metropolitan areas.
The TPP has enjoyed support among younger voters eager to shake up Taiwan's two-party dominated politics, while the KMT is typically supported by older voters or those with business ties to China.
Both parties have pitched themselves as more China-friendly than the ruling DPP, which has invoked Beijing's ire by seeking to raise Taiwan's profile on the international stage and build up its military.
Source link