Gaming
The Best PS5 SSD Deals (August 2023): 2TB SSD with Preinstalled Heatsink for Only $85.97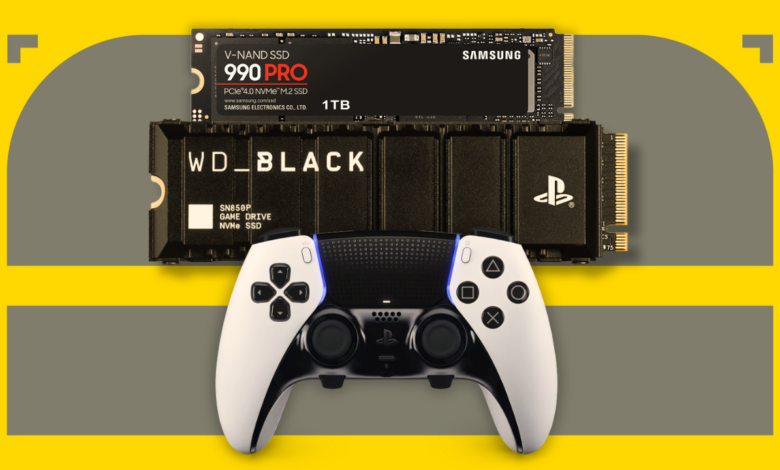 2023 is finally the year where 2TB PS5 SSD upgrades are actually worth the price. Last year, prices for 1TB PS5 SSDs averaged around $150, whereas 2TB SSDs hovered closer to $300. This year, we're seeing 1TB SSDs trickle below the $70 price point and 2TB SSDs can drop to $100 or lower (like the Silicon Power 2TB SSD w/Heatsink for $96). Note that you can't use any old SSD and expect it to perform well on the PS5 console. You'll want to pick up a PCIe Gen4 x4 M.2 solid-state drive with at least a 5,500MB/s read speed to match the PS5's internal drive.
TL;DR – The Best PS5 SSD Deals Right Now
Note that Sony recommends a heatsink attached to your SSD and not all SSDs listed here have pre-installed heatsinks. For the ones that do, we'll be sure to mention it. For the ones that don't, all you have to do is purchase your own heatsink (like this one for $9) and install it yourself. For our top recommended picks for 2023, check out our full breakdown for the Best PS5 SSDs.
Silicon Power 2TB PS5 SSD with Heatsink for $85.97
The Silicon Power XS70 SSD with a preinstalled robust aluminum heatsink costs well under $100. The aluminum heatsink is still slim enough to fit in the PS5 without obstruction. It boasts transfer speeds of up to 7300MB/s read and 6800MB/s write, comfortably faster than the 5500MB/s minimum recommended requirement. It actually performs a little better than the Crucial P5 Plus, the original WD Black SN850, and the Samsung 980 Pro, although that won't make a difference in your PS5.
Crucial P5 Plus 2TB PS5 SSD with Heatsink for $107.99
The Crucial P5 Plus is an excellent choice for your PS5 upgrade. Besides the Silicon Power SSD mentioned above, this is the second least expensive SSD that fulfills both requirements of meeting the minimum speed threshold and including a preinstalled PS5-compatible heatsink. Crucial is also a more recognizable brand than Silicon Power and that might be worth the higher cost.
Nextorage 2TB PS5 SSD with Heatsink for $129.99
There's an interesting story behind this drive. Nextorage was actually originally created by Sony as an SSD division catered to the PS5 console. For whatever reason, Sony decided to ditch that idea and sold this business to another stakeholder in the company, Phison (they make memory controllers found in SSDs from Seagate, Corsair, and Sabrent, and more). Phison eventually accomplished the goal of releasing an SSD catered specifically for the PS5 console in the form of this product right here.
WD Black SN850X 2TB PS5 SSD $136.53
The WD Black SN850X is an upgrade over the original SN850 and is currently WD's fastest PCIe 4.0 M.2 SSD available. This particular model has a beefy preinstalled heatsink that fits within the PS5 bay.
Adata Premium 2TB M.2 PS5 SSD for $94.99
The Adata Premium SSD boasts transfer speeds of up to 6,100MB/s, which is more than fast enough to surpass the PS5's recommended minimum speed threshold of 5,500MB/s. Yes, there are faster SSDs out there, but if your intention is to put this in your PS5, then that extra speed is worthless because you're bottlenecked by the stock PS5 SSD. Better to save that money and put it to better use. It also includes a thin aluminum heatspreader… too thin to be appropriately called a heatsink, but still enough for the PS5 console.
Corsair MP600 PRO LPX 2TB PS5 SSD with Heatsink $120
Corsair is a very well known brand for DIY PC builders. Corsair makes some of the best gaming products on the market, and that includes solid-state memory like RAM and SSDs. The MP600 Pro is Corsair's fastest M.2 SSD and the "LPX" model is "optimized for PS5" because it includes a rugged preinstalled heatsink that is slim enough to fit in the PS5 bay without any issues. We like this RAM so much, we rated it the best PS5 SSD for 2023.
Samsung 980 Pro 2TB PS5 SSD for $119
Looking for a fast and inexpensive M.2 SSD from a brand that you recognize? Here's your answer. Amazon is offering the Samsung 980 PRO 2TB PCIe 4.0 NVMe Gen 4 solid state drive for only $119.99. In terms of performance, it's no longer the fastest SSD on the market (the 990 Pro is), but it's still a very fast drive. It certainly more than meets the minimum 5600MB/s speed requirement to be used as a PS5 storage upgrade, with speeds of up to 7,100MB/s.
What if the SSD Doesn't Include a Heatsink?
Sony recommends you install an SSD that has an attached heatsink. If the SSD you purchase doesn't include one, it's simple enough to buy one for about $10 on Amazon and add it yourself. Most of these heatsinks are just attached using an adhesive like thermal tape.
Budget to Best: PS5 SSDs
There may be other SSD deals out there, but these are the PS5 SSDs we've tried ourselves and highly recommend. They also double up as outstanding boot drives for your gaming PC, in case you don't need additional storage for your PS5 console.
How To Install a New PS5 SSD
It's extremely easy! Removing the case cover is completely toolless. In fact, the only screw you have to remove is the one that keeps the cover for the SSD bay in place. You don't even put it back when you're done. Sony has a quick and easy YouTube video guide.
Source link