Shopping
Up to 40% Off AeroGarden | Harvest Elite w/ Seed Kit Bundle Only $86 Shipped (Reg. $168)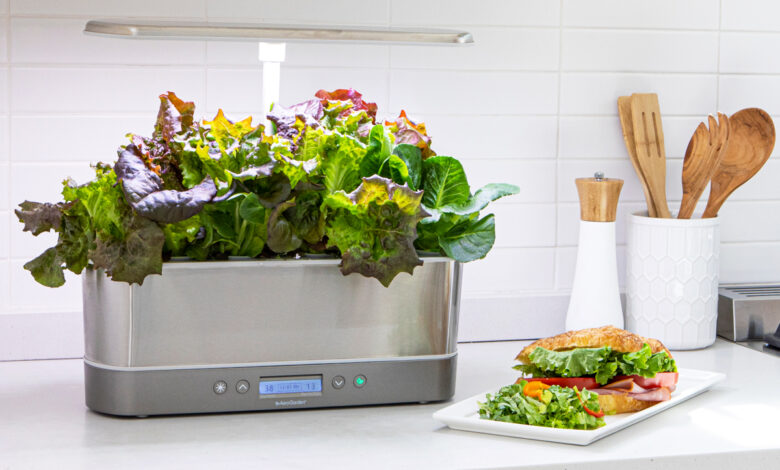 Enjoy fresh garden herbs & veggies grown inside your home year-round!
Through November 21st, hurry over to AeroGarden where you can score big savings during their Black Friday Sale including 20% off when you spend $100, 30% off when you spend $150, or 40% off when you spend $200!
Even better, you can save an additional 10% off bundle items AND score free shipping on orders over $50!  No promo code is required for the discounts, they will automatically be applied at checkout.
If you've been wanting to start growing your own herbs and produce at home, now is the perfect time to get your own AeroGarden! Plus, they would make a great Christmas gift that would keep on giving!
Take the guesswork out of growing and start saving money with your own indoor garden! These hydroponic gardens allow you to grow all year round, no matter what the weather is outside!
They feature LED grow lights to promote rapid plant growth which means you'll have fresh plants ready for harvesting in as little as a couple of weeks. Plus, these indoor gardens include your choice of seed pod sets to get you started!
AeroGardens are perfect for apartments or for areas that do not get enough sunlight to grow produce properly and they look great right on the kitchen counter!
Get growing with these AeroGarden deals…
Oh my goodness, I'm in love!! My plants grew within two days of planting in this garden and my tomato plants just got so large I had to replant them! I will start all of my summer seeds this way and keep an indoor garden going as well. It has been a lot of fun and a real emotional boost!
Buy 2 AeroGarden Harvest Elite w/ Seed Pod Kit $89.95 each (regularly $139.95)
Total = $179.90
Less 30% off $150+ automatically applies
Free shipping on orders $50+
Final cost $125.93 total shipped – just $62.96 each! 
I received this product and set it up with my children the day after we received it. I am a homeschool mom of 2 and we are using this as a part of our science curriculum. It was so easy to set up and after the 4th day, we have seen growth. This is such a great idea for my household since we use the herbs daily anyway.
I absolutely love the digital screen that tells you how many days and when to water. It's fantastic!!! I would highly recommend it to anyone and have already bought more for my family for the holidays.
Buy 2 AeroGarden Harvest w/ Seed Pod Kit $79.95 each (regularly $89.95) – 2 color & 5 Seed Kit options
Total = $159.90
Less 30% off $150+ automatically applies
Free shipping on orders $50+
Final cost only $111.93 shipped – just $55.96 each!
Honestly, the Aerogarden is super easy to use. It doesn't require a lot of maintenance and it's been so fun watching the herbs grow. We are growing basil, thyme, parsley, and lettuce, which are all healthy and delicious. The lettuce especially is so tender!
If you are looking for something simple and fun that will look cute on your counter, this is it. I only wish I had gotten the bigger version so I could grow more.
Fantastic! We are starting our vegetables in the seedling kit & they are growing very well! We have a smaller one with herbs & lettuce too. At 20 days of growth, we had a beautiful salad picked fresh right in the kitchen. Delicious! We love both units & look forward to growing some flower seedlings next for our annual garden outside. Easy to use & great company!
AeroGarden Farm 12 $359 (regularly $419)
Less 40% off $200+ automatically applies
Free shipping on orders $50+
Final cost only $215.40 shipped!
I am so happy with this product! The functional panel is easy to read and follow directions, set the timer to growing with light and set watering. I saw sprouts in about 2 days and am very happy with the vitality of the herbs. I would definitely recommend especially in the winter months when growing outside is almost impossible. Great investment…
AND Don't forget your seed pot kits…
Source link