Fashion
Who Is Jonathan Owens? – Meet Simone Biles' NFL Player Husband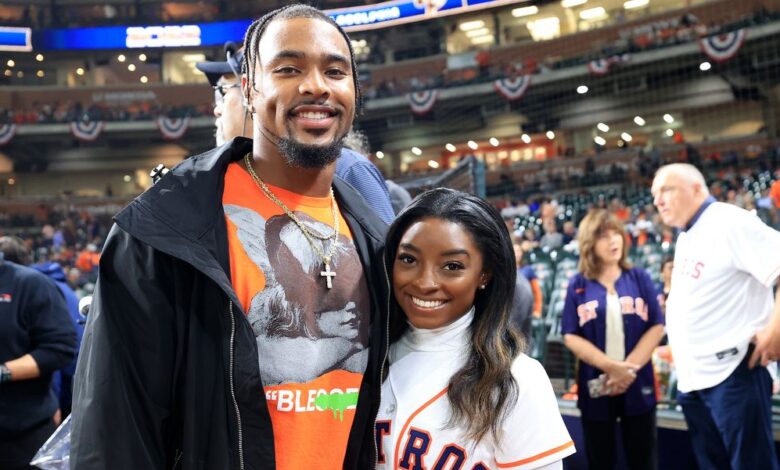 In August 2020, four-time Olympic gold medal gymnast Simone Biles let the world know she had a new boyfriend: 26-year-old Jonathan Owens, a safety for the Houston Texans. The two cuddled up together in photos shared on both her and his Instagrams. "it's just us 🤎," she captioned the shots.
In February 2022, she confirmed that they're getting married. "THE EASIEST YES," she captioned her Instagram full of engagement photos.
The initial romance confirmation came shortly after Biles posted a birthday tribute to Owens at the end of July and weeks after Biles confirmed in a July 2020 Vogue interview that she broke up with her boyfriend, gymnast Stacey Ervin Jr. (whom she dated for nearly three years) in early March 2020. "It's hard being young and having that long of a relationship and then ending it," she told Vogue. "But it was for the best."
In July 2022, Biles posted a photo kissing Owens in what appears to be a carriage. "you give me butterflies🖤," she wrote.
On August 6, Biles, who has recently returned home from Tokyo, posted a photo with Owens while at NFL practice with him.
"open practices aka bring your girlfriend to work day 🤍," she wrote.
"So glad you got to come out baby ❤️❤️," he responded in the comments.
And now, in April 2023, they're officially married. Here, what to know about Owens and his two year-plus relationship with Biles:
Owens and Biles got engaged after over a year of dating publicly.
Biles announced her engagement to Owens on February 15, 2022. "THE EASIEST YES," she wrote. "I can't wait to spend forever & ever with you, you're everything I dreamed of and more! let's get married FIANCÉ 💍🥺🥲🤎 @jowens_3" You can see her engagement photos here.
Owens and Biles tied the knot in an intimate City Hall ceremony a little over a year after their engagement.
On Saturday, April 22, Biles announced she and Owens were officially married. The couple had a very small ceremony, it seems, including on the themselves, the judge who married them, and the photographer.
In the first pic, Owens is raising his right fist in celebration while Biles smiles up at him, looking joyful. The bride for a full length white dress with a tiered tulle skirt and a halter bodice with a plunging neckline. She was carrying a bouquet of white flowers and had her hair up in a ponytail. Owens wore a tan suit with a white button-down and white loafers.
In her caption, Biles, "I do" and "officially owens."
In the comments, Owens wrote, "Wifey got a great ring to it First day of forever."
In his own post about the big event, Owens wrote, "My person, forever #TheOwens #itsofficial," and Biles commented, "i love you husband."
They had a second wedding in Cabo.
On Saturday, May 6, the couple celebrated with a second wedding, enjoying a much more lavish ceremony in Cabo San Lucas. Biles told a fan on Instagram that their first wedding was partly a formality in preparation for their destination wedding.
"We had to get married 'legally' here in the U.S. since our wedding will be a destination wedding," she wrote.
Owens shared a glimpse at their amazing rehearsal dinner in an Instagram reel:
For the big day, Biles wore a white lace dress and Owens was in a beige tuxedo. The Olympian's father Ronald Biles walked her down the aisle and her uncle Paul officiated the ceremony. Owens also walked down the aisle with family, escorted by his mother, Arthurine Cannon. Other guests at the event included Melanie De Jesus Dos Santos, Aly Raisman, Maggie Nichols, Madison Kocian, Jordan Chiles, and Katelyn Ohashi.
Biles celebrated Owens' 28th birthday with an adoring Instagram tribute to her new husband.
Biles marked Owens' 28th birthday with her first tribute to him as his wife. "7/22
happy birthday to my soulmate 🤍🎂 ," she wrote. "I can't wait to see what this year has to offer you, you deserve it all & more! cheers to you husband!"
Owens is 28, from Missouri, and got his start playing football in college and high school.
Owens has been playing in the NFL since 2018, when he signed with the Arizona Cardinals. He got a knee injury that year and remained on the injured reserve list before he was released from the team a year later in August 2019. That September, the Houston Texans signed him to its practice squad. The team signed him in January 2020 to reserve/future contracts.
Owens is from St. Louis and played college football at Missouri Western State University. Before that, he played football in high school, at Christian Brothers College, in Missouri. His jersey number for the Houston Texans is #36, and he's 5'11.
Both Biles and Owens are currently based in Texas.
Biles trains at the World Champions Center in Spring, TX. She resumed training at the center in May 2020 when it was safe enough to reopen amid the coronavirus pandemic. Biles will compete in this summer's Olympics, which were postponed because of COVID-19.
As a player for the Texans, Owens is based in Houston, just a 26 minutes drive from Spring.
Biles has been liking Owens' Instagrams since November 2019.
It's unclear when exactly Owens and Biles met or started dating. But if Instagram is any indicator, Biles has been a fan of Owens since the end of 2019. Owens doesn't post often on his Instagram grid, but Biles' first like was on his November 27 shot.
Her second like was on his March 9 photo, shortly after her breakup.
She has liked every one of Owens' Instagrams since.
Owens, like Biles, has a dog with its own Instagram.
Both Owens and Biles are dog lovers. Owens has an Instagram account for Zeus, the "most energetic English Bulldog you've ever met," according to the dog's Instagram bio. He very regularly updates Zeus' IG with cute new dog shots:
Biles, meanwhile, has an Instagram account for her two Frenchies, Lilo and Rambo.
Owens is a Cancer.
On July 22, 2020 Biles posted an Instagram tribute to him on her IG Stories, which the Shade Room captured (along with the great TikTok they created together). "Happy 25th birthday," she wrote with a kissing face emoji. "Hope this year brings you everything you want & more."
Biles, for what it's worth, is a Pisces with a March 14, 1997, birthday—making her and Owens a very compatible astrological pairing.
Owens is very close with his mother and older sister.
Owens is family-oriented and regularly pays tribute to both his mother and sister on his Instagram. On Mother's Day 2020, he wrote to his mom, "Happy Mother's Day to my ❤️ you have been my biggest fan and supporter through it all. I'm so thankful for everything you've taught me, enjoy your day beautiful 😌"
He also credited his sister with getting him into football in 2018: "Happy birthday sis! Who knows where I'd be if you didn't force me to start playing football 😂 it's crazy how close we are even though we 11 years apart, imma keep making you proud! Love you sis ❤️"
Owens was very supportive of Biles as she entered her second Olympic Games.
When Biles was on her way to her second Olympic Games, Owens wore a red shirt that said "Because I can—Simone Biles" along with Biles' parents and posted a picture with his Olympian girlfriend holding flowers.
On June 7, Owens took to his Instagram to celebrate Biles becoming the first woman to win seven U.S. championship titles. "What an amazing experience 👏🏽 First time getting to watch you compete in person, and you didn't disappoint. It's so cool that I get to watch you do what you love and be the best at that ‼️ I'm so proud of you, my lil champ 🥰❤️ Trials up next, and you already know I'm there!! Love you, baby ❤️❤️," he captioned the post.
Owens did not know who Biles was at the start of their relationship.
In the third episode of Biles' Facebook docu-series Simone vs. Herself, Owens mentioned that he was not aware of Biles's stature in the world of gymnastics. "Her work ethic was really the first thing that caught my eye," Owens said, per Insider. "I never really watched gymnastics before I first started talking to her. When I met her, I honestly didn't know who she was."
"The coolest thing for me is that I get to witness someone who is literally in the pinnacle of their sport," Owens added. "It's motivating to see that and the impact that she has on people. We were walking past this group of girls, and they were shaking, 'Oh my god, it's Simone!' This is when I kind of knew. Like, okay, yeah, she's the real deal."
Biles slid into Owens' DMs.
In her July WSJ cover story, Biles opened up about the beginning of her relationship with Owens. "He would say I slid into his DMs. I saw him, and I was like, 'Oh, he's pretty cute,' so I said hi…and then I saw that he was in the Houston area, so we started chatting a little bit, and then we went to hang out a week or two later," the gymnast told the outlet.
Biles then revealed that her sister pushed them together and invited Owens on their family lake trip. After the Biles' approved Owens–along with his french bulldog Zeus– he started to come around more and joined the family for weekly Sunday dinners.
Biles celebrated Owens' 26th birthday with a sweet Instagram post.
On July 22, Biles took to her Instagram to celebrate her boyfriend's birthday. As Biles prepares for the Olympics in Japan, she posted a gallery of sweet photos of her and Owens with a heartfelt caption."Here in Japan, it is already my favorite person's birthday 🖤 HAPPY 26th BIRTHDAY BABE. @jowens_3 I love you so much. Can't wait to celebrate with you when I get home! Thanks for keeping me sane during the craziest times. An ear to vent too, someone to share fun times with and make the best of memories 🖤 not sure how I got so lucky & what I'd do without you! But I hope you have the best day ever. Not too much fun without me tho hahaha 🥺🤞🏾🤍 forever yours, S," Biles captioned the post. Owens commented, "Thank you so much, baby I love you ❤️❤️."
Owens showed support for Biles after she won silver in the team final.
On Tuesday, July 27, Biles pulled out of the Olympic team event finals "due to a medical issue," per USA Gymnastics' statement.
Even though she exited, her team pulled through and won silver for the team category. Biles posted on her Instagram to celebrate the team's accolade. "OLYMPIC SILVER MEDALISTS 🤍 I'm SO proud of these girls right here. You girls are incredibly brave & talented! I'll forever be inspired by your determination not to give up and to fight through adversity! They stepped up when I couldn't. Thanks for being there for me and having my back! Forever love y'all," she wrote as a captioned photo of herself, Jordan Chiles, Sunisa Lee, and Grace McCallum holding their Olympic medals.
Owens showed his support for his then-girlfriend as he commented, "I'm so proud of y'all 🤞🏽❤️," under the post.
Owens posted a sweet tribute to Biles after she pulled out of multiple Olympic events.
On July 29, Owens shared a sweet tribute to his Olympian girlfriend. During the Olympics, Biles pulled out of the team and individual all-around final to focus on her mental health. Owens posted a gallery of photos of Biles and himself, captioning the post, "Imma ride with you through whatever baby ❤️. Your strength and courage is unmatched, and you inspire me more and more every day SB 🤞🏽. You are always going to be my champ, baby, and don't you ever forget that I love you so much, and I can't wait till you come home and I get to see that beautiful smile again. You know I'm always here for you, baby ❤️❤️ -JO." Biles commented, "I love you so much 🤎🤞🏾" underneath the post.
Biles shares romantic post when reuniting with Owens after the the U.S. Gymnastics Championship.
After claiming the U.S. Gymnastics Championship for the eighth time in San Jose, California, Biles returned to her husband and shared a romantic shot of her a Owens reuniting. But it was just their hands. In the pic, Biles lays her manicured fingers over her husbands, showing her engagement ring by jewelry designer, ZoFrost. The NFL player's wedding band came from the same Houston designer.
"back together again," she wrote.
Owens commented, "Back at home," adding two heart emojis.
She later shared pictures of herself and Owens in a house under construction, implying they're building a nest together, and one shot of them holding hands.
Senior News and Strategy Editor
Alyssa Bailey is the senior news and strategy editor at ELLE.com, where she oversees coverage of celebrities and royals (particularly Meghan Markle and Kate Middleton). She previously held positions at InStyle and Cosmopolitan. When she's not working, she loves running around Central Park, making people take #ootd pics of her, and exploring New York City.

Starr Savoy is a fellow at ELLE.com, where she writes about celebrity, culture, beauty, and fashion. When she is not working, you will find her pumping iron at the gym, watching Netflix's latest phenomenon, and indulging in retail therapy.

Hilary Weaver is a freelance writer based in New York who writes about politics, queer issues, Meryl Streep, Glenn Close, and every woman the Queen has ever made a dame. I saw Mamma Mia! Here We Go Again three times in theaters, and that's pretty much all you need to know.