News
Zelenskyy's top aide slams West over 'war fatigue' – POLITICO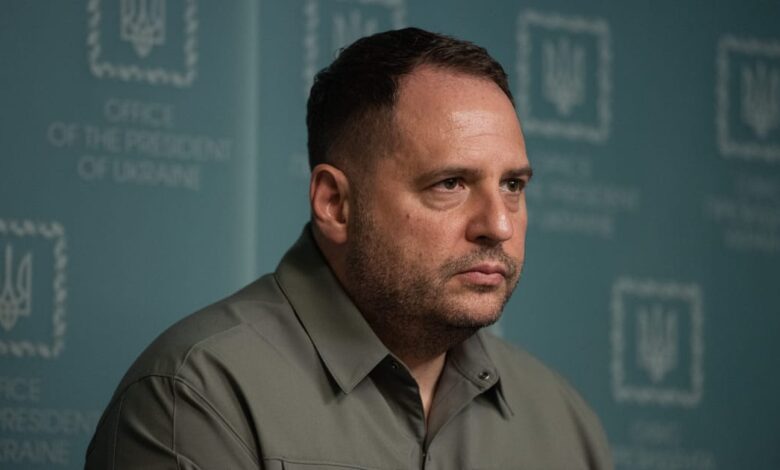 World leaders should stick by Ukraine, despite the additional demands of dealing with the Israel-Hamas war, the Ukrainian president's powerful chief of staff told POLITICO in an interview from Kyiv.
Andrii Yermak, head of the office of President Volodymyr Zelenskyy, also pushed back hard on the idea, voiced last week by Italy's Prime Minister Georgia Meloni in a call with Russian pranksters, that many are growing tired of the war in Ukraine. On Friday Ukraine faced its biggest barrage of drone attacks in weeks on critical infrastructure in the south and west of the country.
Meloni said in the prank call — in which she thought she was speaking to the president of the African Union — that there was "a lot of fatigue … from all sides," and that "everyone understands that we need a way out." 
Yermak retorted: "Even if there are people who feel this fatigue, I'm sure they don't want to wake up in a world tomorrow where there will be less freedom and less security, and the consequences of this last for decades." And he suggested Meloni brush up on her history.
"Think for a moment, if Britain in 1939 had felt tired of Poland, or if the U.S. … felt tired of Britain, would there be such a thing as Poland today, Britain, or Europe as we see it now? We could not afford fatigue then or now. That will repeat itself for sure if these people with 'fatigue' stop supporting Ukraine," Yermak said.
A stalemate in the counteroffensive being waged by Ukraine's army has led to predictions of a frozen conflict, as the Kremlin hopes that a changeable international situation — with the Middle East in foment and a U.S. election year ahead — will sap commitment to supporting Zelenskyy's demand for assistance.
Yermak insisted that Ukraine "will never live in the frozen conflict mode" and warned that complaining of  "war fatigue" would rebound on Western powers as much as it would on Ukraine, claiming that the narrative was being driven by a Russian propaganda push to weaken allies' resolve as the Israel-Hamas war distracted attention in global capitals.
Testing Western unity
Fighting in Gaza and a fragmented international response to Israel's campaign to wipe out Hamas' operational base — which is testing the unity of Western allies — has led to concerns that support for Kyiv could wane, as the war-torn country vies with Israel for dwindling supplies of shells and more limited diplomatic bandwidth in the United States and the EU to deal with two major conflicts simultaneously.
Regarded as a key decision-maker on the Zelenskyy team and a personal friend of the president, Yermak said: "What we are hearing from [foreign] leaders and allies is that support will stay as it was" before the October 7 attack on Israel by Hamas.
On the need to maintain stocks of shells and other munitions via the allies in the U.S. and Europe, however, he admitted that some shortages were arising. "During the war, [there are] a lot of shortages and I think these days it is impossible to cover 100 percent of your troops or get everything that you need because war is war — you're always falling short of something. This is why we want to increase domestic production of munitions, with the support of our allies."
Upcoming talks in the U.S. on ramping up cooperation to enhance Ukraine's defense capability and enable it to build out its air defense system would, he pledged, be "very specific and a hands-on conversation."
Reports of weapons intended for Ukraine surfacing in Gaza have circulated on social media in recent days, but Yermak strongly denied that armaments sent to Ukraine were ending up outside the country. "Ukraine fully controls the situation. I think this is yet another Russian fake … The bigger the lie, the easier it can be for people to believe," he said.
Friend of Israel
Ukraine is striving to establish itself as a firm ally of Israel and Yermak penned an article for the Haaretz newspaper in the wake of the Hamas atrocities, saying "the similarities of our tragedies are not accidental."
He cited Iran's backing for Hamas and supply of drones and weapons to Moscow as evidence of a "pole [axis] of evil" and added: "Russia is aggressor number one. And the second after Russia is Iran. And I think these two have an interest in what is happening in the Middle East as well."
But he also spoke of the need for a broad alliance to aid Ukraine and singled out Qatar for thanks after its mediation in secret talks to secure the release of four children taken from Russian-occupied territory and returned to Ukraine in a gesture intended to shore up Doha's push to act as an intermediary between Moscow and Kyiv. Ukraine has identified some 20,000 children forcibly removed from its territory since the full-scale invasion in February last year.
Yermak also confirmed that the majority of drones used in the attacks on Friday on Ukrainian infrastructure were supplied by Iran. Asked if his country's defenses could keep pace with the growing volume of airborne and drone attacks from Russia, the chief of staff said. "We are prepared to strike back and defend ourselves, but we have to keep strengthening our air defenses."
EU report card
Ukraine's hopes of speedy accession to full membership in the European Union rest heavily on the report card set to be published on Wednesday on the progress of Ukraine and other aspiring EU members. It could pave the way to the start of formal accession talks after Kyiv was offered candidate status in June, subject to agreements to overhaul its judiciary and deal with widespread corruption.
Asked if he expected Ukraine's bid to start EU accession talks would begin shortly, a bullish Yermak indicated that a visit to Ukraine by European Commission President Ursula von der Leyen on Saturday boded well for his country's EU ambitions. 
"Yes, this is what we are expecting because we are doing everything to make it happen," he said. "And I think that the visit of Ursula von der Leyen … is a very powerful step on that way."
On her visit to Kyiv on Saturday, von der Leyen strongly hinted that the Commission will recommend that EU countries open accession negotiations with Ukraine. EU leaders will discuss the matter at a summit in December.
Von der Leyen's predecessor as head of the European Commission, Jean-Claude Juncker, claimed recently that Ukraine was unfit for EU membership because it was "corrupt at all levels of society."
Asked about that allegation, a clearly irked Yermak shot back: "I don't recall Mr. Juncker visiting Ukraine in the last couple of years. So it's a bit strange for me to hear these words from him. … I am categorically dismissing the statement that Ukraine is very corrupt. These challenges happen all over the world, but could you please give me an example of one other country that, under conditions of this horrific war, would undertake the reforms on such a scale."