Crypto
Here's what happened in crypto today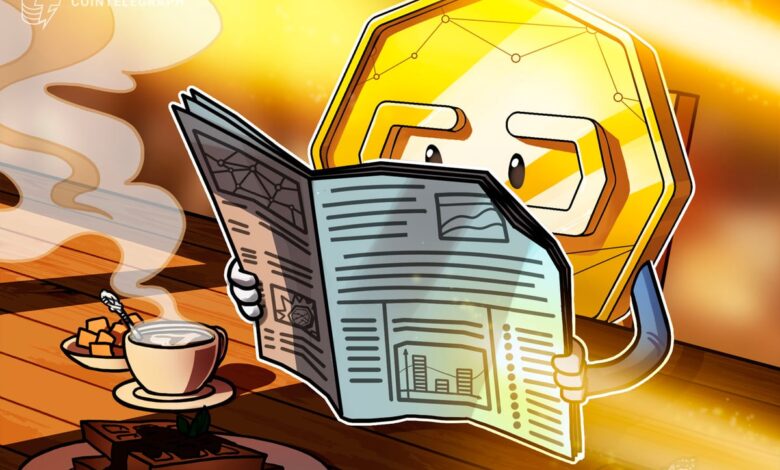 The Bank for International Settlements (BIS) doesn't believe that stablecoins are a reliable store of value. Meanwhile, Bitcoin (BTC) ATMs in El Salvador will soon receive the Lightning Network upgrade and Wintermute's CEO has publicly called out the NEAR Protocol and Aurora, alleging they reneged on an $11 million stablecoin swap deal. 
BIS: Stablecoins are not a reliable store of value
According to the Bank for International Settlements, stablecoins have failed to live up to their name and are anything but "stable."
In a Nov. 8 report, the so-called bank for central banks said fiat-backed stablecoins only maintained their peg 94% of the time, based on a nearly four-year analysis of the industry. The peg ratio for crypto-backed and commodity-backed stablecoins was even worse at 77% and 50%, respectively.
Lack of data about users & uses of #stablecoins makes it difficult to ascertain the risks they pose to the smooth functioning of payment systems & financial stability, which may hamper authorities' ability to put in place effective policies and safeguards https://t.co/XivilF85HI pic.twitter.com/dAk8U4hEG1

— Bank for International Settlements (@BIS_org) November 8, 2023
"Not one of the stablecoins assessed in this paper has been able to maintain their closing prices in parity with their peg," the organization wrote.
The stablecoin market has exploded in value over the past four years, with the likes of Tether (USDT) and Circle's USD Coin (USDC) dominating the market.
El Salvador Bitcoin ATM network to receive Lightning Network upgrade
Athena Bitcoin, the company operating a state-owned chain of crypto ATMs in El Salvador, plans to roll out Lightning Network into 100 machines by December 2023.
According to a press release from Nov. 7, Athena Bitcoin Global and Genesis Coin have already enabled the use of the Lightning Network technology across their technology infrastructure and will now begin implementing it, first in El Salvador and then across Latin America.
Out of the 215 active crypto ATMs in El Salvador, the remaining Chivo-branded kiosks and the Athena-branded ones will receive the Lightning Network upgrade in Q1 2024.
The country's leader, Nayib Bukele, who made Bitcoin (BTC) legal tender in 2021, recently announced his run for reelection as president in 2024. "Five more [years], five more and not one step back," Bukele said in a speech in front of thousands of Salvadorans.
Wintermute claims NEAR, Aurora reneged $11M stablecoin swap deal
The NEAR Foundation and Aurora allegedly backed out on a deal to convert $11 million worth of USN (USN) stablecoins for FTX, Wintermute founder and CEO Evgeny Gaevoy has claimed.
In a Nov. 7 X (Twitter) post, Gaevoy claimed NEAR and Aurora refused to honor a commitment to one-to-one swap $11.2 million worth of USN for Tether (USDT) that Wintermute was liquidating for FTX.
When Wintermute submitted its redemption request, NEAR allegedly "refused to honor their commitments" and offered Wintermute 20% of the $11 million, Gaevoy claimed. He said after two and a half months Wintermute is still waiting on it's USDT.
3. Summary

To reiterate, I see this situation very clearly as:

– NF committed to backstop USN and earmarked money for it
– Aurora accepted the redemption in August (and only last week backtracked on it)
– NF decided they have the power to keep the $11M to themselves instead of…

— wishful cynic (@EvgenyGaevoy) November 7, 2023
Gaevoy said Wintermute would pursue "all legal avenues" against NEAR and Aurora with his post a "last and public attempt" to ask the NEAR Foundation to complete the redemption.
The NEAR Foundation and Aurora did not immediately respond to a request for comment.
This article does not contain investment advice or recommendations. Every investment and trading move involves risk, and readers should conduct their own research when making a decision.