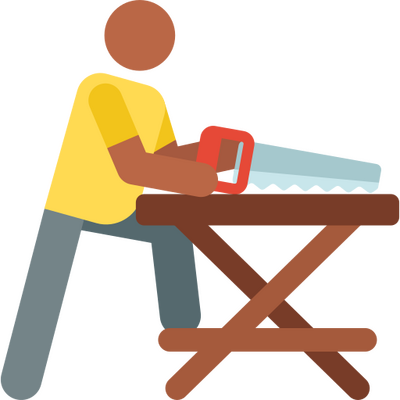 Job Description: 
RenovateRX is currently seeking a skilled Carpenter to join our team. As a Carpenter, you will play a vital role in the maintenance and improvement of the various properties we handle in the Catskill area. Your expertise in carpentry will contribute to the overall aesthetic appeal and functionality of our vacation properties.
Responsibilities:
Perform a variety of carpentry tasks, including framing, installing doors and windows, building and repairing furniture, and completing finishing touches.
Read and interpret blueprints, drawings, and specifications to ensure accurate execution of carpentry projects.
Measure, cut, shape, and assemble materials according to specific requirements.
Install and repair fixtures, cabinets, flooring, and other carpentry-related components.
Collaborate with other team members, such as plumbers, electricians, and painters, to ensure smooth project execution.
Adhere to safety protocols and regulations to maintain a safe working environment.
Conduct inspections to assess the condition of existing structures and identify areas in need of repair or renovation.
Provide accurate time and cost estimates for carpentry projects.
Maintain tools and equipment in good working condition, performing regular maintenance as necessary.
Requirements:
Proven experience as a Carpenter, preferably in the construction or property management industry.
Proficient knowledge of carpentry techniques, tools, and materials.
Ability to interpret blueprints, drawings, and specifications.
Strong attention to detail and precision in executing carpentry tasks.
Excellent problem-solving and troubleshooting skills.
Ability to work independently and as part of a team.
Time management skills to meet project deadlines.
Physical stamina and strength to perform manual labor.
Valid driver's license and reliable transportation.
Local residency in or near Catskill, New York is preferred.
If you possess the necessary carpentry skills and are passionate about creating beautiful and functional spaces, we invite you to apply for this position. Please submit your application along with a resume and references. RenovateRX is an equal opportunity employer, and we value diversity in our workforce.